We received products and/or other compensation to facilitate this post but all opinions shared are our own.
---
THIS HOLIDAY SEASON, GIVE THE GIFT OF READING WITH CRICKET MEDIA'S "DOUBLE THE GIVING" CAMPAIGN
My kids LOVE getting magazines in the mail. There is just something magical about getting a paper magazine in the mail box delivered from an unknown location. It's kinda like Christmas once a month. The fact that Cricket has different levels to match the age of the child makes it even more special!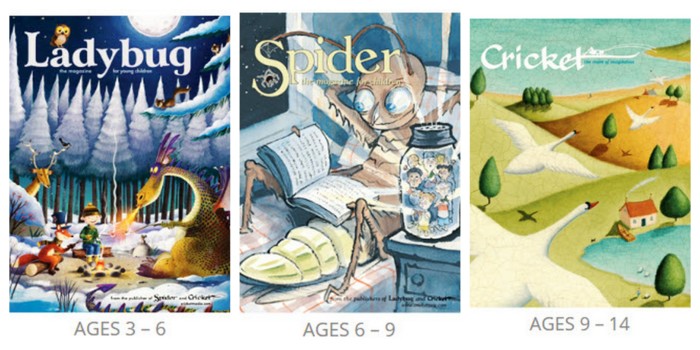 Cricket has 3 different magazines aimed at three very different age groups. One different group for each of my three kids. Bub gets to enjoy Spider a magazine aimed at kids 6-9 that has stories he laughed at, games he wanted to play, and other fun surprises. Lou had her own fun with Ladybug which is aimed at preschoolers. She was shocked with each page turn exclaiming, "They even have a maze in here!" CB quietly enjoyed her Cricket magazine. She loved the stories in it and read it through the very first night.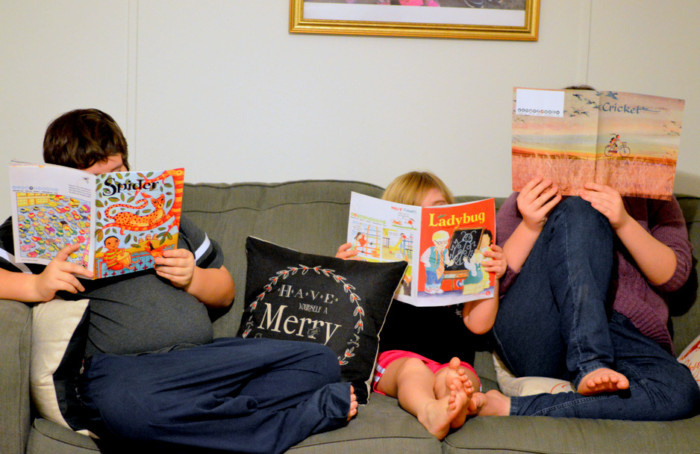 The books are normal magazine thick with shiny pages and entertaining stories. They also include a few activities, poems, jokes, and other things to keep the kids engaged. Spider even had a fun little comic on the bottom through out the book that had Bub going through the book again. He has also read through Lou's Ladybug book and has been begging CB to allow him access to hers with no such luck. 🙂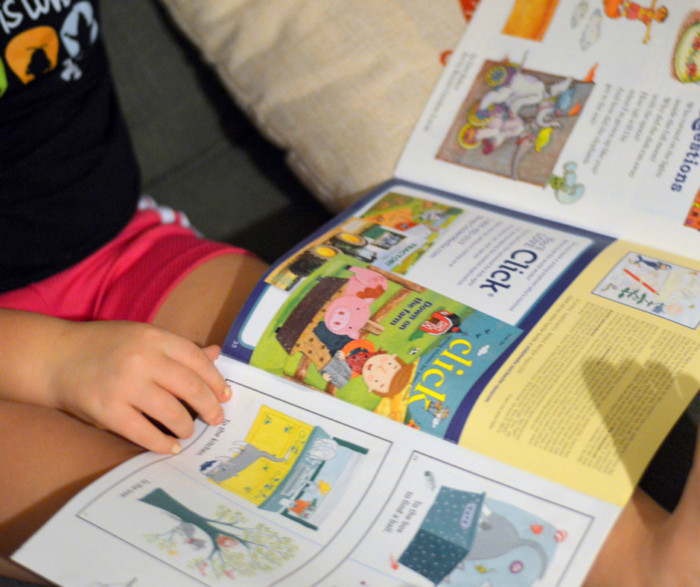 THIS HOLIDAY SEASON, SEND WARM WISHES 
TO EVERYONE ON YOUR LIST WITH FREE 
PRINTABLE CARDS FROM CRICKET MEDIA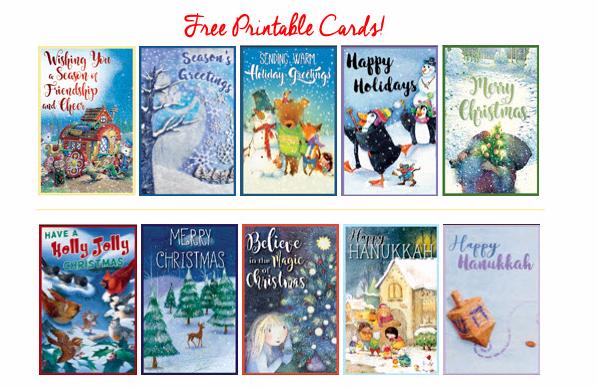 There is more! Cricket media has a special campaign going on right now!
Read the press release to find out how you can give the joy of reading to a child in need!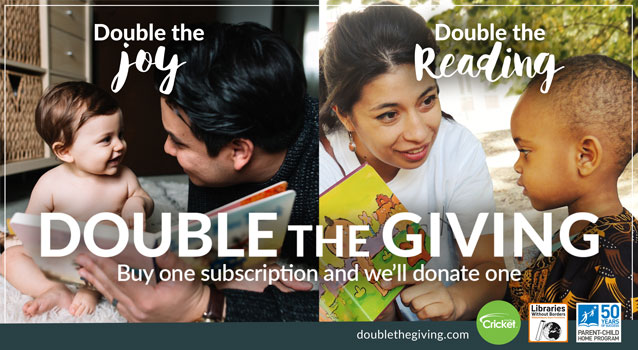 Press Release:
THIS HOLIDAY SEASON, GIVE THE GIFT OF READING WITH CRICKET MEDIA'S "DOUBLE THE GIVING" CAMPAIGN
With Each Magazine Subscription Purchased, Cricket will Donate One to
a Child in Need in Partnership with Two Award-Winning Literacy Charities:
Libraries Without Borders and Parent-Child Home Program
Guaranteed to Spark a Lifetime Love of Reading!
McLean, VA (November 7, 2016) — This holiday season, Cricket Media, and its award-winning family of ad-free kids magazines including BABYBUG, LADYBUG, SPIDER and CRICKET,invite gift-givers to  double the reading and double the joy with their new "Double the Giving" Campaign.  Throughout this November and December, any gift-giver purchasing an annual print subscription to one of four different Cricket publications will also deliver the gift of reading to a child in an underserved community through two award-winning, charitable partners: Libraries Without Borders and Parent-Child Home Program, both 2016 Library of Congress Literacy Award Winners.
Since 1973, the magazines in the Cricket family have sparked curiosity, inspired creativity and opened worlds of possibility in kids ages 3-16.  Simply stack a year's worth of one of Cricket's magazines in front of a child, and they'll see months of great stories and interactive features; adults will see a lifetime foundation of literacy and learning.  But many children do not have access to these experiences, and Cricket wants to help.
Beginning today, generous gift-givers seeking to give the life-long gift of reading are invited to visit
DoubletheGiving.com
.  There, they'll have the opportunity to join a movement guaranteed to spark a lifetime love of reading through Cricket's "Double the Giving" Campaign, Through the purchase of specially-discounted subscription bundles to BABYBUG (ages 6 mos.-3), LADYBUG (ages 3-6), SPIDER (ages 6-9) or CRICKET (ages 9-14) for $29.95 (regularly priced at $33.95), gift-givers can select between two charitable organizations to receive another 9-issue annual print subscription.
Libraries Without Borders supports community development in 20 countries around the world through the promotion of literacy.  And, since 1965, the Parent-Child Home Program has been providing under-resourced families with the necessary skills and tools to help their children thrive in school and in life, developing school readiness in children with disadvantages by combining intensive home visits with weekly gifts of books and educational materials. Donated subscriptions through the "Buy One, Donate One" program will deliver BABYBUG, LADYBUG, SPIDER, AND CRICKET to families in more than 400 high-need, underserved communities throughout the United States, opening windows of possibility, creativity and wonder for thousands of children across the country.
"Our mission at Cricket is for our magazines to be read and enjoyed by as many families as possible," said CEO Stephanie Sharis.  "Spreading the joy of learning is at the heart of this campaign. And with the help of generous consumers, it's our goal to reach 10,000 new kids in underserved communities across the country, making for a very bright holiday season for all".
About Cricket Media
Cricket Media is an education media company that provides award-winning content on a safe and secure learning network for children, families and teachers across the world.  Cricket Media's 11 popular media brands for toddlers to teens include Babybug®, Ladybug®, Cricket™ and Cobblestone™.  The Company's innovative web-based K12 tools for school and home include the ePals community and virtual classroom for global collaboration as well as In2Books®, an e-Mentoring program that builds reading, writing and critical thinking skills. Cricket Media serves millions of teachers, students and parents in over 200 countries and territories through its platform and NeuPals, its joint venture with China's leading IT services company Neusoft. Cricket Media also licenses its content and platform to top publishing and educational companies worldwide.  For more information, please visit 
http://www.cricketmedia.com
.
About Libraries Without Borders
Libraries Without Borders (LWB) is a 501(c)(3) non-profit, non-partisan organization devoted to facilitating the growth of libraries in the developing world.
Currently active in 20 different countries, LWB recognizes that
access to knowledge is a key factor in social and economic development. By facilitating the growth of libraries across the globe, LWB aims to provide the knowledge that is the engine of human development.
Libraries Without Borders and Bibliothèques Sans Frontières (BSF) form an international network of organizations working together to promote knowledge-based development in under-served regions of the world.
About Parent-Child Home Program
The Parent-Child Home Program supports under-resourced families in preparing their young children for school success, by combining intensive home visits with weekly gifts of books and educational materials.  Early-literacy specialists model good practices to educate parents about the importance of parent-child interaction, give them the tools needed to inculcate early literacy skills in their children, and encourage them to see themselves as active participants in their children's educations.  In this program, community-based early learning specialists visit participating families twice a week for two years.  When families complete the program, the staff helps parents enroll their children in quality preschools or kindergartens.  The program has been replicated in 400 high-need communities in 14 states and in Chile, Canada, Ireland and Bermuda.