We received products and/or other compensation to facilitate this post but all opinions shared are our own.
Last Minutes Thanksgiving Day Treats That Are Sure To Wow the Family!
I'm always guilty of spending way too much time looking for easy desserts on Pinterest than actually being able to create them myself. My artistic talents don't include creating adorable seasonal treats so I rely heavily on the creativity of others. Make that dish also super easy and highly delicious and I'm sold. I have worked to share Mrs. Freshley's treats a few times now and one the most consistently pointed out detail of their recipes is how easy they are to recreate. This year I want to share with you three great recipes that are great for the family get together and quick enough to give you more time to worry about the turkey or where the kids are.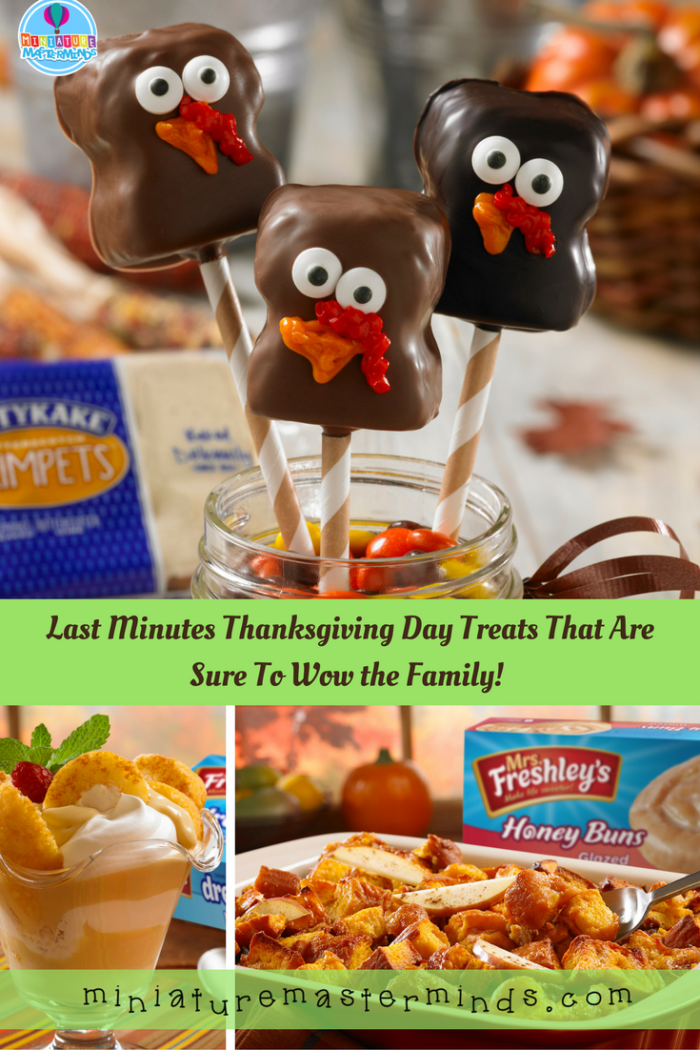 ————————————————————————————
First we have a treat that has one of our favorite cakes as a base so I'm pretty sure this one will be a huge hit. The Dreamies never last long around here….. Did I mention this one has coffee in it?  Coffee!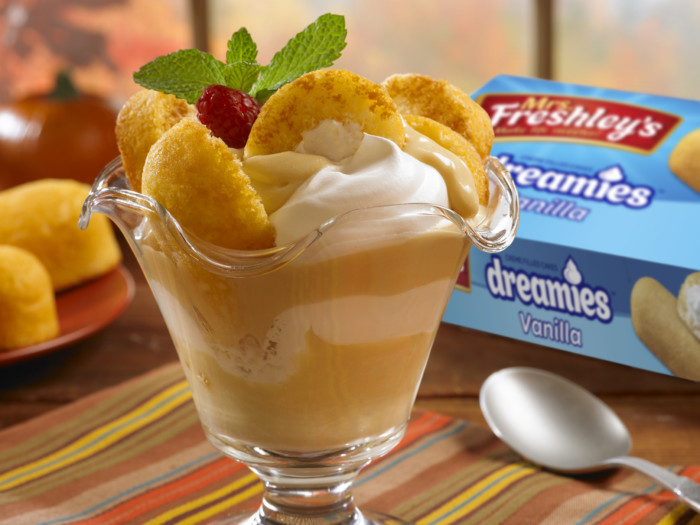 Mrs. Freshley's Fall Harvest Tiramisu
Ingredients
8 Mrs. Freshley's Dreamies or Chocolate Dreamies
1 Cup of choice coffee, cooled
8-oz Package of cream cheese, softened
2 Cups cold fat-free milk
2 (1-oz) Packages of sugar free vanilla instant pudding mix
8-oz Tub frozen whipped topping, thawed
Directions
Brush sides of the Dreamies or Chocolate Dreamies with coffee and arrange four on bottom of a 2 quart bowl (cut in half if needed).
In a separate bowl using a mixer, blend cream cheese and remaining coffee, gradually beat in milk.
Add dry vanilla pudding mixes into coffee mixture and beat for two minutes.
Spoon layer of coffee pudding onto layer of Dreamies or Chocolate Dreamies, then layer half of the frozen whipped topping in the bowl.
Layer remaining Dreamies or Chocolate Dreamies, then remaining coffee pudding and remaining whipped topping.
Refrigerate for at least 1 hour before serving.
————————————————————————————
Next up is this Pumpkin Dread Pudding. Now I'm not one for pumpkin flavoring but look at that picture. I think this dish would even turn me to the pumpkin side.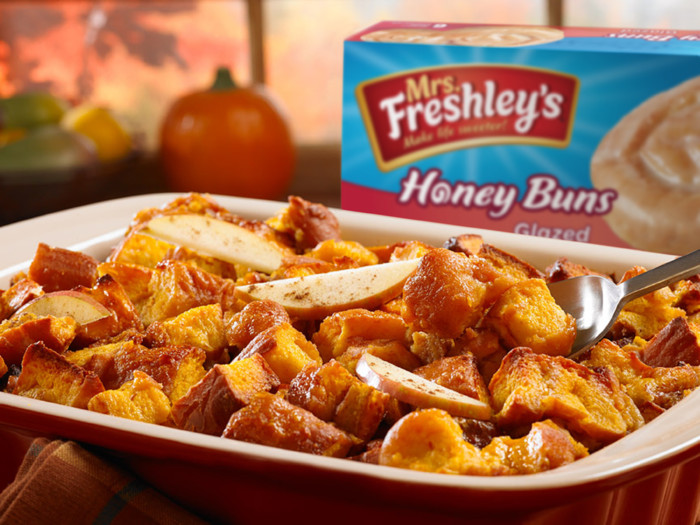 Mrs. Freshley's Pumpkin Bread Pudding
Ingredients
5 Mrs. Freshley's Honey Buns
2 Cups milk
2 Eggs, beaten
1/2 15-oz Can of pumpkin puree
2 Tbsp brown sugar
1 Tsp Vanilla extract
1/4 Tsp Cinnamon
Directions
Slice Mrs. Freshley's Honey Buns into bite size pieces.
Place honey buns in greased 2-quart baking dish.
Beat eggs, pumpkin puree, milk, sugar and vanilla in a small bowl.
Pour milk mixture over honey buns.
Sprinkle with cinnamon and bake at 350 degrees F for 35 to 45 minutes or until golden brown and pudding is firm.
————————————————————————————
Last but not least is my favorite, TURKEY POPS! Aren't these little guys super adorable! My kids will love these cuties adorning the dessert table. This is what I should bring to the family dinner. They might actually get ate!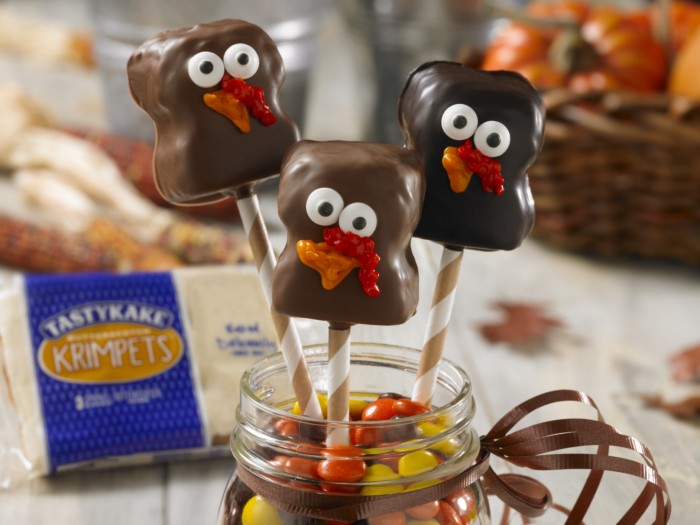 Tastykake's Tasty Turkey Pops
Ingredients
1 family pack of Tastykake Butterscotch Krimpets
Chocolate candy melts
Candy eyes
Orange icing
Red icing
Party straws
Directions
Insert a decorative party straw into one end of the Butterscotch Krimpet.
Dip the Krimpet into melted chocolate.
Cool on a parchment lined baking sheet.
Draw on the beak with orange icing
Draw on gobbler with red icing.
Add candy eyes.
————————————————————————————