Halloween Themed First Grade Fill In The Missing Numbers 1 To 100
This post and my current state of being awake are brought to you by two cups of peppermint chunk coffee…and some spicy hot pork rinds laced with a small amount of regret. Peppermint chunk coffee does not mix well with spicy pork rings. 🙂 I've been doing the low carb diet thing and pork rinds are like magic to me.  The fact they have very low carb content and taste sooooo yum makes them a great snack for me. I was reading the other day about people using pork rinds for low carb breaded chicken. I haven't tried it yet but I'm seriously thinking about it. I bet it would taste much better than coffee and pork rinds. 🙂
On to the printable…:) I'll stop my coffee fueled rambling now and get back to business.
Fill In The Missing Numbers To 100
I thought I would make Lou a 100 chart to fill in the missing numbers and then got a little carried away and made 4. Each one gets progressively harder meaning more numbers are missing. The last one only has 1,50, and 100. Each page has a different Halloween/Fall theme. These worksheets are no prep. All you have to do is print.
I hope you enjoy them!
Also be sure to check out our FREE printables section where we share over 200 sets of printable worksheets, activities, and games! 
Click below to download this FREE set in a PDF!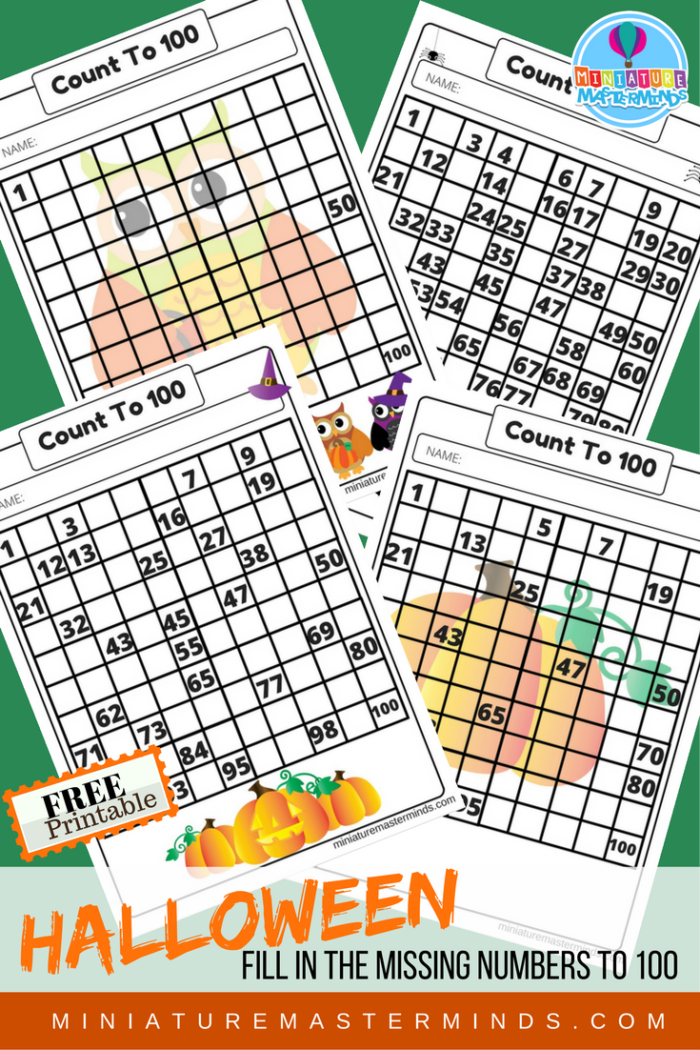 Suggestions, requests, questions, corrections, or comments?
Use our worksheets or activities?
Send a picture to be featured in a future post!
Email to: miniaturemasterminds@gmail.com
This download is free to use for any daycare, church, school, personal, co op, or home school use.
We all make mistakes sometimes, if you happen to find one of mine feel free to email me and let me know so I can correct it!
TERMS OF USE:
All activity images, printables, and games are free to download and/or use as you choose, with the exception of claiming as your own, modifying, or redistributing as your own. Please feel free to use in any classroom setting! Feel free to link to this page but not to the download or image itself, if you would like to share downloads or ideas. All shares are appreciated. Permission to use 1 image of your choice is given. Thank you for respecting these guidelines.