We received products and/or other compensation to facilitate this post but all opinions shared are our own.
Miniature Masterminds and the Money Savvy Pig Review
Many of you know my daughter's obsession with pigs but most of you don't know she is also obsessed with saving money. I saw the Money Savvy Pig Homeschool set and thought it was perfect for her. It comes in several different colors. I picked green because it's CB's favorite color but it also comes in blue, pink, and other colors.  You can also get different animals such as a cow. This pig comes with four sections for the child to collect their money in. There is a spot to Save, Spend, Donate and Invest.
Being able to save money and plan for money to go to certain areas is a great skill for kids to practice. Money can be a hard subject to master as sometimes it seems to go faster than it comes. As adults we try to make sure kids have all the things they want and tend to be a little tight lipped on money issues to not worry them. Kids often don't have a concept of money and the fact that there is only a certain amount available and not an unlimited supply to by every toy, candy, or knick knack they choose. This set is a great way to show kids that we are not just being mean to them by not allowing them to have their every desire and that money comes in a finite supply.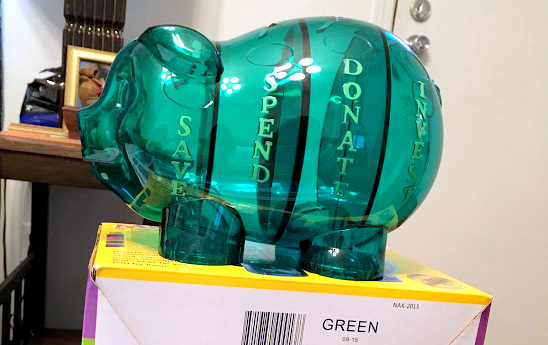 In the Money Savvy Kids home school kit is several ways to teach kids about money and it's uses as well as how to save and plan. It's a great way to help kids work on being fiscally responsible. It comes with the Parent handbook, Student workbook, Student activity book, poster (she had already hung it in the classroom), disc with songs and other information, and the pig.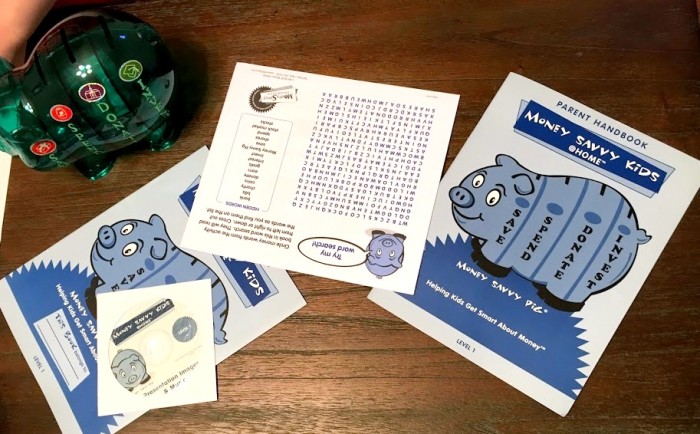 Cb couldn't wait to get started with the set. Cb has always been interested in saving money almost as much as she is interested in spending it.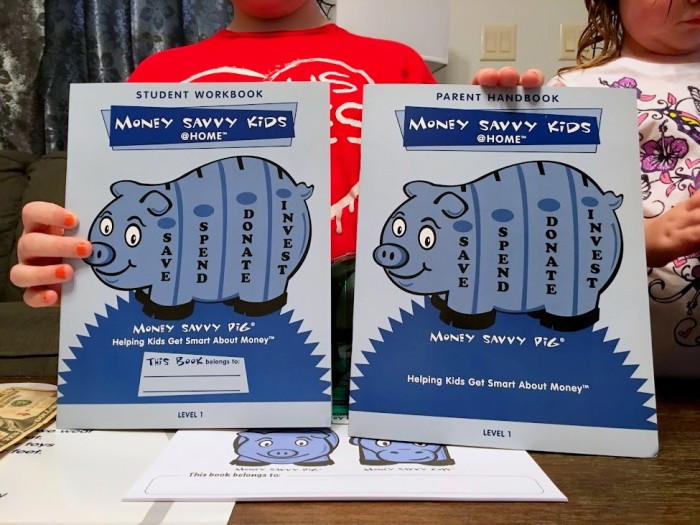 The girls work tirelessly to fold and count CB's savings into the Money Savvy Pig. You can see in the video below how she picked which each section was going to go and placed her stickers on the pig. They spread out her current saving among the four topics and she plans to continue the practice.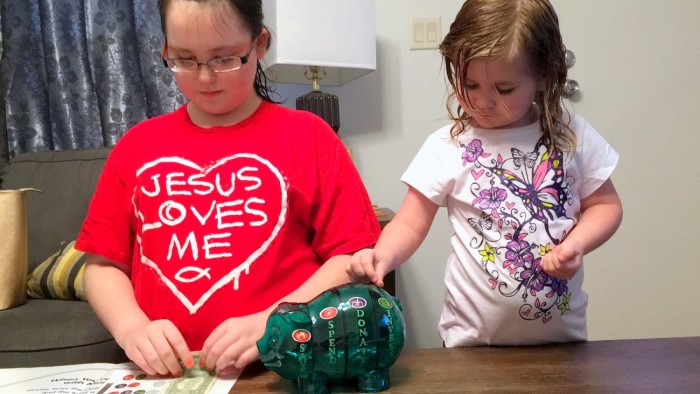 You can check out the girls as they introduce the pig and talk about the different areas of savings below.