This post is part of my participation in the Netflix Stream Team but all opinions are my own. Photos used in this post are from Netflix.com.

The question of the day for me is this:
Have You Seen Fuller House On Netflix Yet?
We spent yesterday binge watching the new Fuller House the moment it came out on Netflix. My oldest was enthralled with the quirky colorful show that really brought to life the struggles of growing up. We have been watching the original show for months in anticipation of seeing this new updated version. Seeing the grown up versions of their favorite characters was something all the kids really enjoyed.
We start with the familiar theme song that has my three year old running through the house screaming, "I hear FULL HOUSE!"

Than we move 29 years into the future. We get a glimpse of nearly all of the characters and learn what they have been doing the past 29 years. We also get a glimpse of their upcoming future. The show really brings back some great nostalgic memories and feelings. I remember watching the original show when I was the age of my kids. It was our favorite show and I can remember many of the episodes. It was a huge part of my childhood and being able to share this with my kids is an amazing feeling.
We were already anticipating it's arrival by watching the sneak peaks Netflix released such as this video of the main characters dancing to a modern song. You have to admit…The have some skills.
And then there were the previews that had us all in tears with memories followed up by this featurette.
Than the day comes and finally we get those words that made us both laugh and cringe as children…"Hola, Tannerinos!" Than we watched how life can change and things aren't always going to go how we plan as the character we love showcased the ups and downs of growing up and becoming adults and parents. They also showed us how that even though life doesn't always go the way you want, you can roll with the punches and create your own happiness.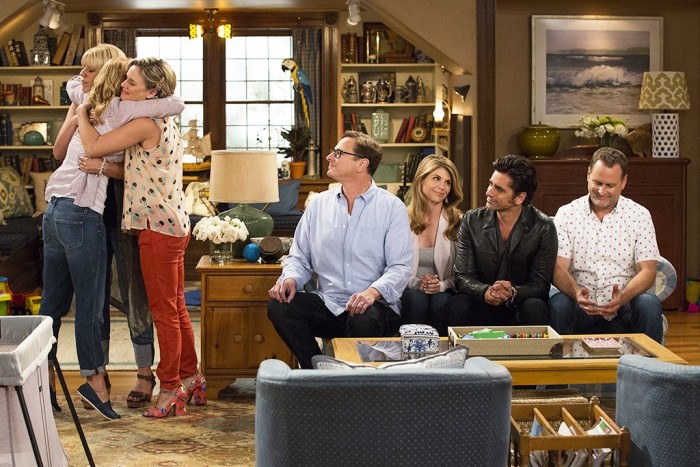 I shared in watching the show with my mom and kids yesterday at her house. We enjoyed our time as we binged on love and laughter bringing something we love to the next generation of DJ, Kimmy, and Stephanie fans. I'm not going to share any of the hilarity because I don't want to spoil the punch line but I recommend you check out Fuller House on Netflix!