Today just happens to be World Day Of The Snowman and although cold enough to snow, it hasn't yet. It flurried a little on Sunday morning. Just enough to cause the local grocery store to run dry of bread and milk but sadly not enough to use our nifty new snowman kit. Although, I'll be the first to admit when it does snow I'll probably be begging it to melt… what will be left after my snow crazed children roll, jump, build, rake, slide, and dance in it that is.
Going outside is important for many reasons and not just getting out wiggles out. Kids need that time to exercise and run. It's also great for their health and important in the process of building a healthy immune system. We try to go out as much as possible because not only is it fun but it's also healthy and so good for our bodies!

Even if there was no snow to build a snow man today we decided we were going to build a snowman anyway with our no snow snowman kit. I hid all the pieces around the yard and the kids ran around finding the pieces to their snowman and built this little guy together. We had so much fun building our no snow snowman! 
You can build one of these cute guys yourself with a few simple supplies. Styrofoam balls in two sizes. A scrap of fabric for the scarf. Buttons or wiggly eyes for eyes. And a few brass connectors or thumb tacks for the mouth. We have named our Dakota and he likes bananas.
Another way to help build a healthy immune system is with Culturelle® Kids Probiotic Chewables with Lactobacillus GG. It helps safely populate your child's intestinal tract with good bacteria to support their immune system and keep them healthy. It helps reduce occasional digestive upset in kids, including diarrhea and general discomfort. Each berry flavored tablet contains five billion live active cultures and is sugar, dairy and gluten-free. Culturelle Kids Probiotic Chewables is recommended for children three years and older.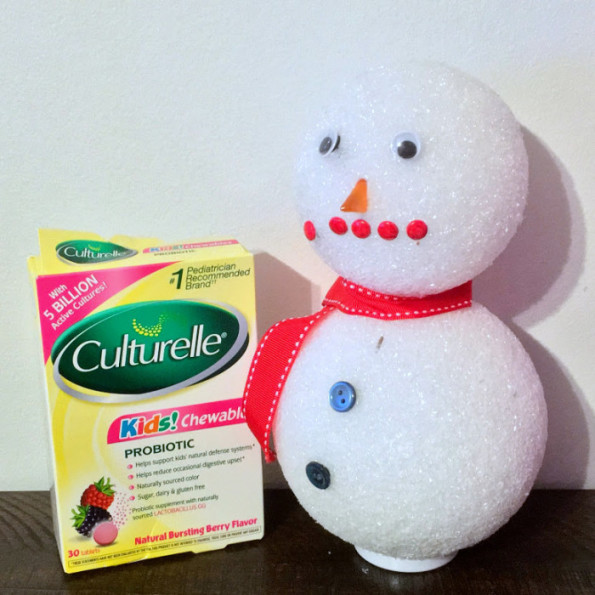 Culturelle Kids Probiotic Chewables is available at all major food retailers and drug retailers, including Target, CVS, Walgreens and Rite-Aid.
*These statements have not been evaluated by the Food and Drug Administration.This product is not intended to diagnose, treat, cure or prevent any disease.

We received products and/or other compensation to facilitate this post but all opinions shared are our own.