This is a sponsored conversation written by me on behalf of Chuck E. Cheese's. The opinions and text are all mine.
Host The Birthday Party Of A Lifetime With Chuck E. Cheese's
What does a Chuck E. Cheese's party look like? Pizza, Games, Ticket Blaster, Dedicated Host, Music, FUN! It it a party like no other and when it is over, there is no mess to clean up! Create memories that will last forever in a fun safe environment. They really aim at making the party one you will not forget. We had a party for CB this past week and invited her cousins to come have fun too. A few of them couldn't make due to changes of plans but we still had a blast.
Their older cousin who happens to be special needs had a birthday just a couple weeks before. She told them it was her birthday too and they gave her a birthday shirt and tiara just like one CB had. It was something they didn't have to do at all but it sure made a little girl's night.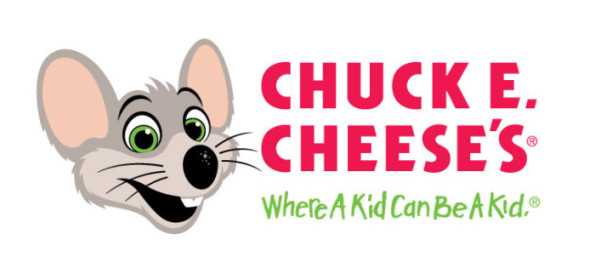 The party was super easy to book online. I visited their website and picked the date and time I wanted. They sent me confirmation right then. They offer two ways to pay. You can pay when you register or you can pay in store with a small down payment upfront before the party. The site is easy to navigate and you have your confirmation email as soon as you hit submit. You can also check or change your reservation by visiting Chuck E. Cheese's website and looking at the bottom of the birthday party page. They make it easy to fit the party to your needs. That was all I had to do and my party was planned! Stress free and mess free!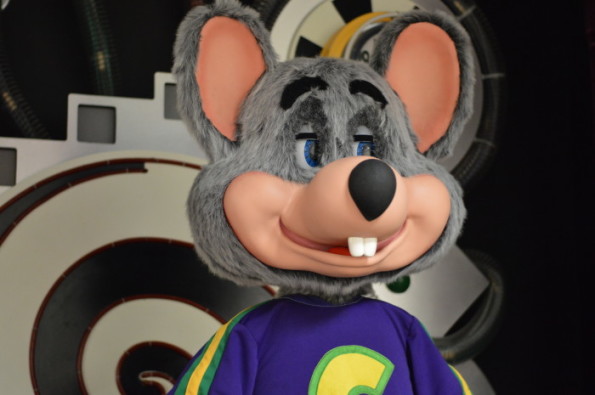 They have different party levels that fit every budget. They can party like a super hero or princess in their Chuck E. Cheese's themed parties or get this awesome Chuck E. Cheese's t shirt to commemorate their awesome party at Chuck E. Cheese's. The goodie bags are full of puzzles, toys, and candy along with 10 tokens for a future visit!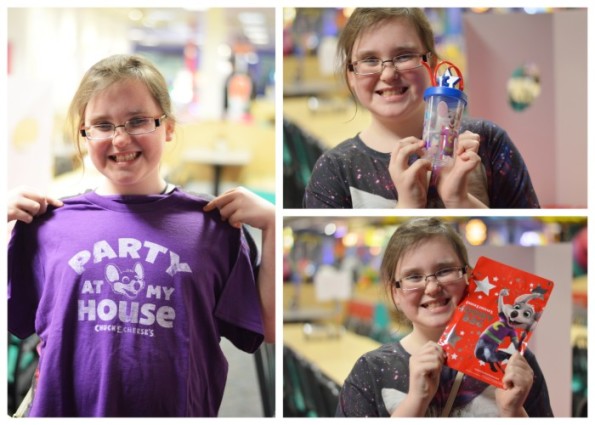 When you first arrive you are greeted by your dedicated host. The host we had was great. She was there to help guide us through the whole process. She helped us to arrange every event from play time to cake time. She made sure that the party went off with no complaints. She already had everything sat up for us and was waiting at the front door for us to arrive. I can't say enough wonderful things about her! Each employee was really awesome and made the experience feel as if we were the only party they were having, even though there was actually three in all.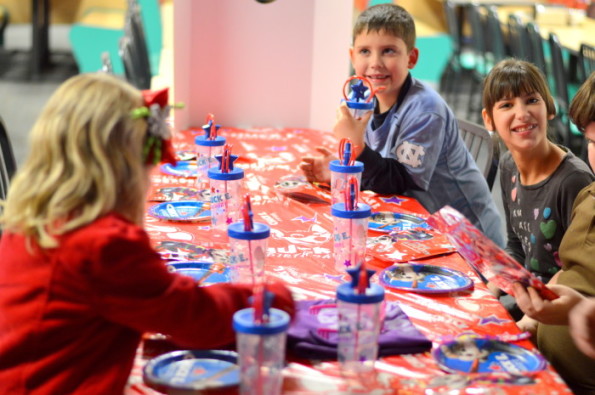 After the kids raided the table and goodie bags, they had some time to play before the pizza arrived. Each party comes with a play pass and points on them.There are tons of games for each child to play. The have a wide selection that has something that appeals to each age group. The boys in the group went one way with my husband while the girls and I played together. They rode this horse game at least three times each. They also flew up to the ceiling in a peddle helicopter, took pictures with each other, and danced.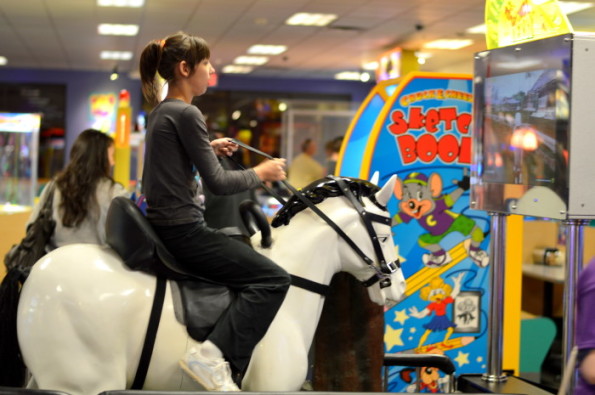 Than it was time for PIZZA! You get two pizzas with the party. The host can make an announcement to let everyone know it's pizza time. Although most of our party guests were already together.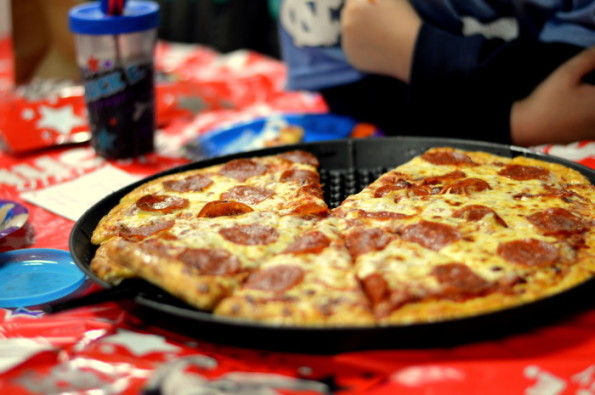 And then there was CAKE! Chuck E. Cheese's came out and sang Happy Birthday to CB and then let us take pictures. I'm pretty sure Lou has gone star stuck crazy. She hugged Chuck E. several times. She was so super excited to see him!
The host lit the candles and took care of handing out the cake pieces. All I had to do was sit back and watch.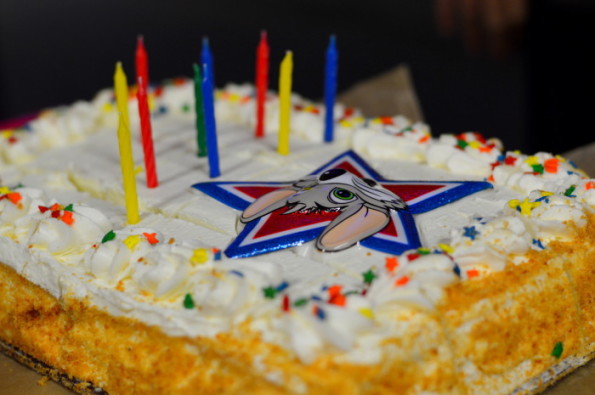 Chuck E. was very friendly with the kids. He shook hands, gave out high fives, and put up with the constant hugging of my over zealous three year old.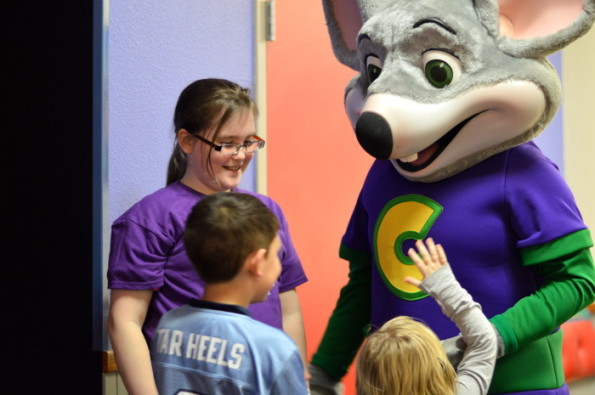 After a bit more game time, they were able to get into the Ticket Blaster. CB had been looking forward to this one ALL night! The Ticket Blaster is a great place to get some fun pictures! It was so fun to watch them in it as well as for them to get inside.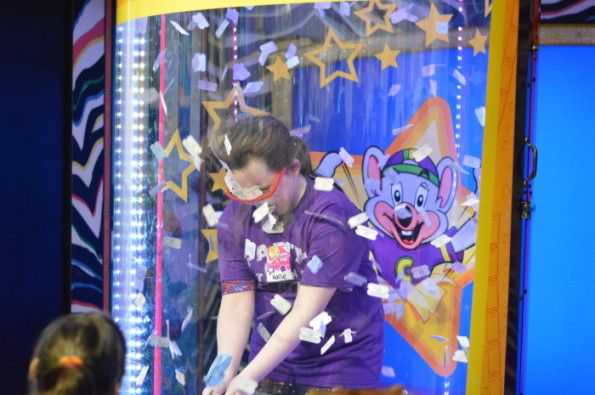 Our host was so great that she let the other kids get in as well. I think this was one of their favorite moments. The girls LOVED it!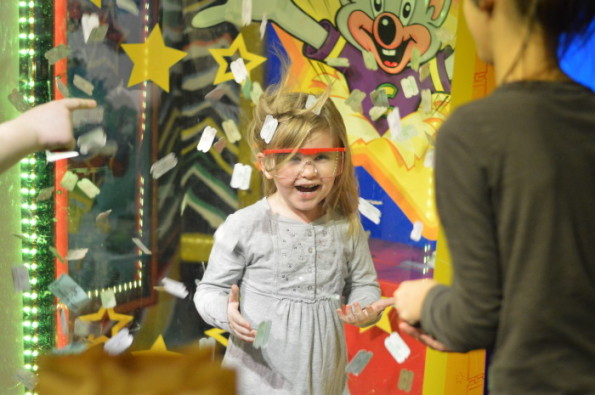 They had more game time to end the night with a bang. They ended up with a ton of tickets. CB hit the jackpot on the ball drop game TWICE in a roll which made her night. She is still talking about her jackpots a week later.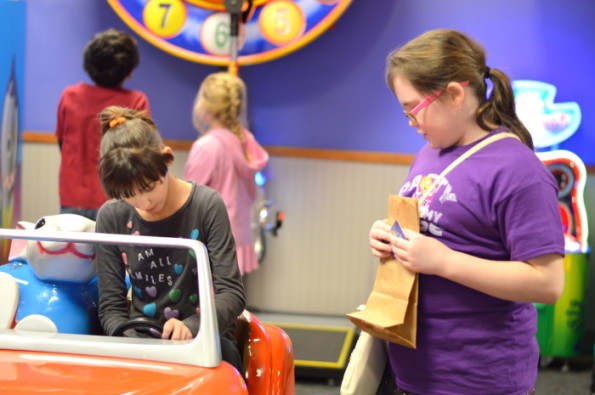 Lou went up in the play area which is something she doesn't really do. CB ended up having to go rescue her which would have made for so funny pictures but I promised her I wouldn't show the photos of her coming down the slide.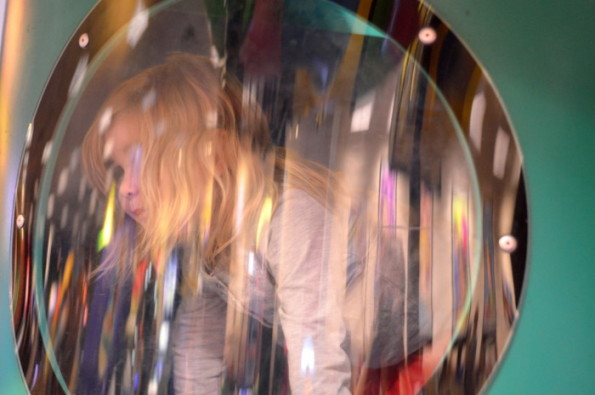 We had a great party and hadn't planned on staying three hours but we did. It didn't feel like no time because we were having so much fun. I have a feeling we will be back soon for another birthday because now all the kids have labeled it as party central and declared this party as the best party ever!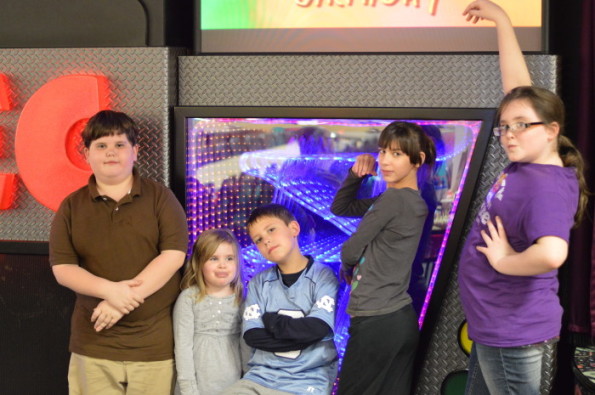 Thank you  Chuck E. Cheese's  for a wonderful party and making me look like the coolest mom ever!
This is a sponsored conversation written by me on behalf of Chuck E. Cheese's. The opinions and text are all mine.