We received products and/or other compensation to facilitate this post but all opinions shared are our own.
Super Easy Classroom Decorating with Stik-ees
We have been looking for a way to add holiday cheer to our classroom without taking up our much needed learning space. Our classroom isn't very big, in fact it's just really a den we turned into a classroom. Space is valuable and a regular Christmas tree would not be able to fit. Which is where Stik-ees comes into play. They have vinyl clings for all different occasions that we can use to liven up our classroom or any room for that matter!

Stik-ees come on a sheet just like stickers and you have to pull them off. You can also replace them onto the page between holiday uses for safe keeping and protection. Storage would be as easy as labeling a file folder and storing them in a drawer. They will last for years to come because they are made from sturdy thick material that isn't going to rip easily. Trust me, my three year old gave them a once over and they are threenager safe.
They have several designs available such as: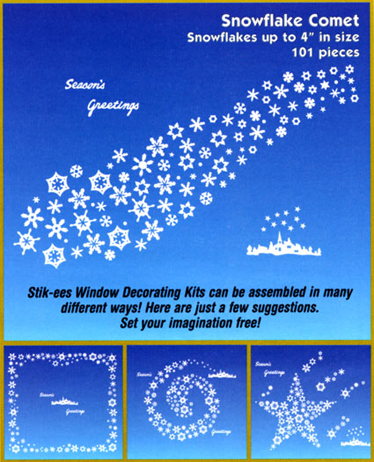 I could see my daughter going crazy for these because she would think her window looked like Elsa had visited. I could see these as coming in very handy at a Frozen themed birthday party as well! They do stick to any smooth surface and are easy to remove. Best part is there is NO messy residue, no mess to clean up, and they can come back out anytime you need them and they should look the same as when you put them away.