I received a Sweetwater gift card as part of my relationship with the Quality Blue Community. All opinions expressed are my own.
This year we are wanting to incorporate music into the classroom. I'll be honest, I have no musical skills. I was not taught a musical instrument as a child. Not because I wasn't offered but I just had no interest. I was a computer girl, still am but now I'm raising a musical family. My husband sings…I mean he sings like on stage with a group and he is GOOD. My children are walking in his footsteps quickly behind him. They love music. All three of them are interested in learning an instrument. My daughter has been begging for a guitar but I didn't have a clue about picking out the best one for her. I didn't have a clue about anything when it came to musical instruments. Then I was given the chance to shop on Sweetwater.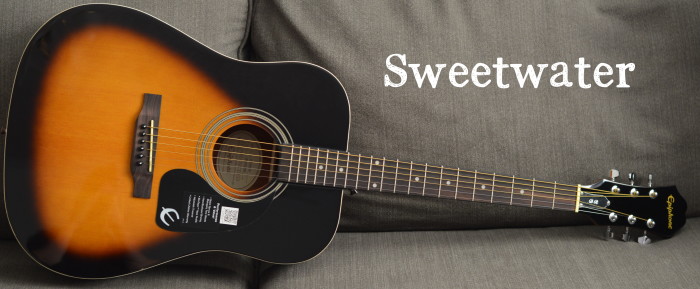 Sweetwater sells a ton of musical related products from guitars to accessories and all the stuff in between. What is great about Sweetwater is that the guitar came tuned. Do you know what would have happened if it hadn't came tuned…nothing because I don't know how to tune a guitar. They take each guitar out and make sure it is ready to play as soon as you open the box. In fact, each guitar is put through a 55 point checklist before it goes out the door!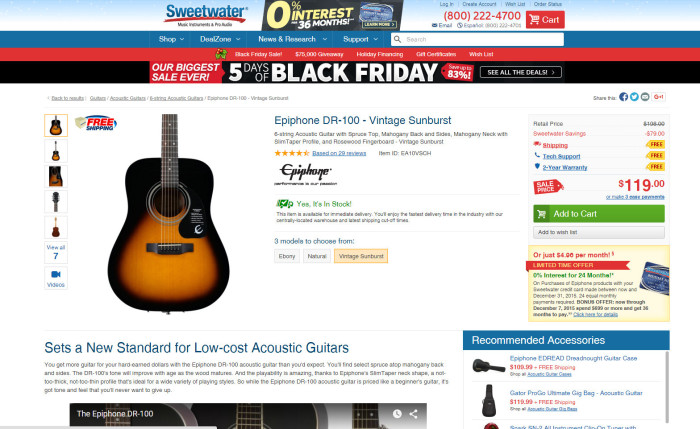 There are several reasons to choose Sweetwater for your guitars! Click here for some more!
The site is super easy to navigate and I found the guitar I wanted to purchase with no trouble at all. They have several different ones to choose from but I love the sunburst look. My grandmother had a guitar that looked similar she would play for us. The beautiful sunburst look brought back memories of late evenings on the front porch listening to her play while we sit in the porch swing or ran around catching lightening bugs. I can't wait to hear my dad teach my daughter how to play this. I have a feeling my kids will be creating memories as great as the ones I have.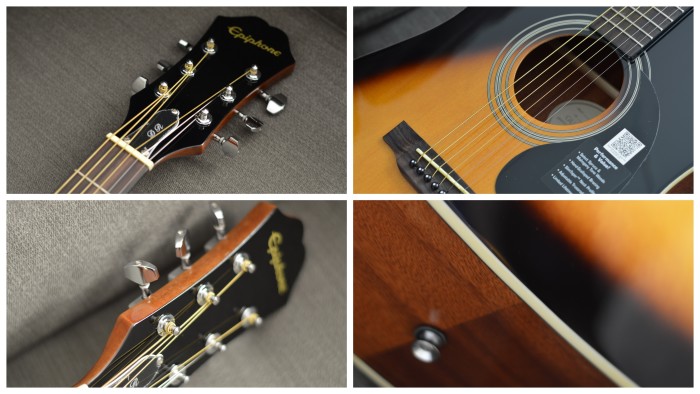 Sweetwater also currently provides free shipping and free return shipping on guitars. Making shipping a non issue. I also got to choose between Fedex or UPS. I have gotten to know the UPS guy well enough to know he would take care of where he left this package so I went with them. The guitar came very quick after I placed my order. And in no time I was looking at this big box and only I knew what was inside. I was so excited to open it and found it packed quite well along with some sweet extras that were an unexpected treat. The Sweetwater staff also reached out to us to see if everything came in okay and if we were satisfied…which we were. I was almost ready to take up guitar lessons myself instead of the kids.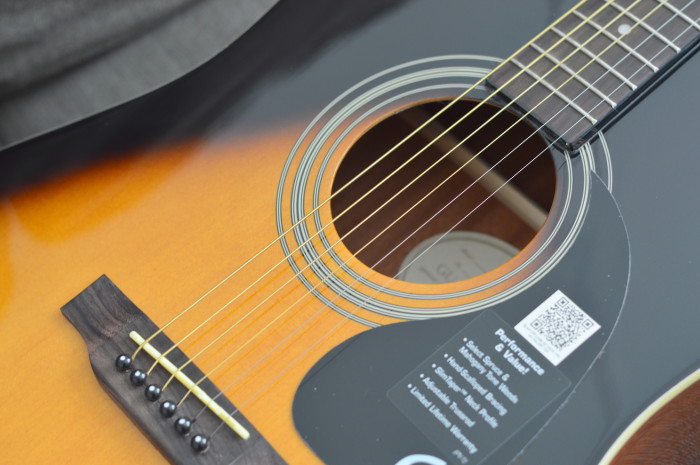 Check out Sweetwater for all your music needs! Also be sure to check them out on Cyber Monday for some great deals so you too can give the gift of music this year!
Click here to learn more about Sweetwater!