As a #StreamTeam member, I post monthly about Netflix offerings and all the interesting shows you can find on Netflix. In exchange for Netflix service and other promotional items.


BOO! It's almost Halloween! We are ready for our Halloween Eve (Kinda) Spooky Movie Night! Below are some movies that my 10 year old picks to be the best movies/shows on Netflix for kids this Halloween. From this list is what we will be enjoying tonight so join us in our Kinda Spooky Not So Frightening Spookfest!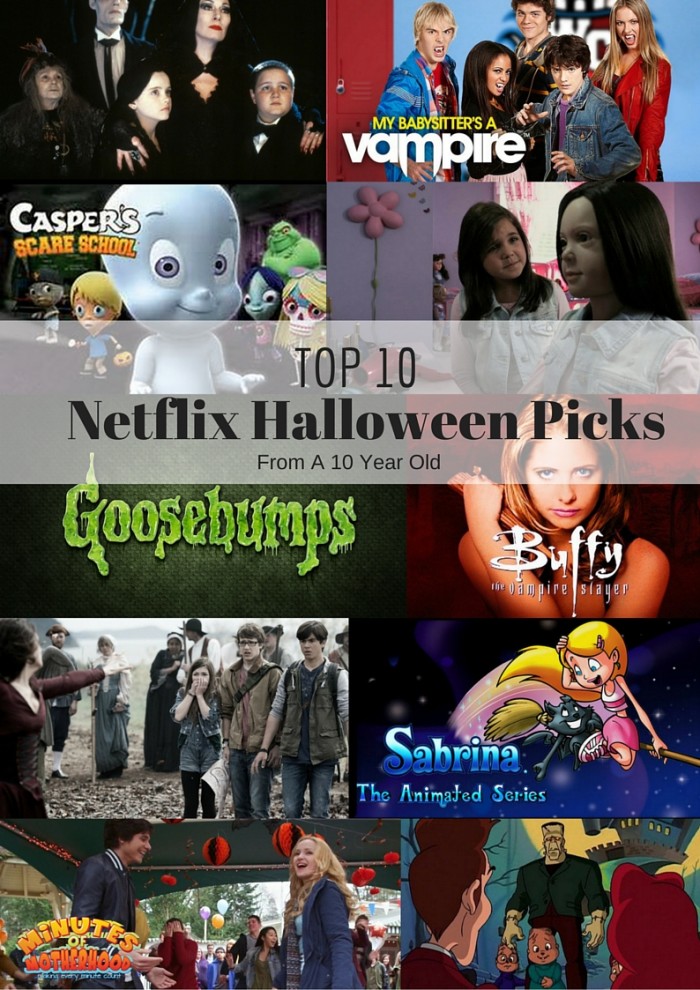 Keep in mind that Netflix has TONS more offerings to give you goosebumps and make you not want sleep for a month to watch this Halloween night as well as shows for the smaller ones to enjoy! I'm going to share below a list of suggestions for the little ones this holiday weekend.
Top Ten Netflix Halloween Picks From a Ten Year Old
You can also watch her video where she gives an overview of each show or movie in her own words.
If you are looking for some suggestions for the even younger group:
Curious George's Halloween Boofest
 Curious George is always a favorite.
Children's Favorite Halloween Treats
Mixture of Halloween shows for preschoolers.
A Magic Puppy
 Two teens turn a man into a puppy. Life lessons are learned.
Spooky Stories
Featuring Shrek and his buddies. They have a part 2 as well.
Any Monster High movie is usually a over all crowd pleaser.
Spooky Buddies
 No Halloween list for kids is complete without these adorable puppies!
There you have our list of our favorite Netflix Halloween choices.
Share with us some of your favorites on Facebook or Twitter!
Or share with us how you going to be spending your Halloween Eve night!