Even Super Heroes, Princesses, and Wookiees have to Eat Lunch – Ragu® MeatBall Spaghetti French Bread AD @RaguSauce
This is a sponsored conversation written by me on behalf of Ragu® . The opinions and text are all mine.
I was going to start this post off with "A Super Hero, a Queen, and a Wookiee walk into a bar…" but not one of them is even near the legal age of responsibility. Instead I want to share with you how we recover from a long morning of home school, work, and re-connect after being apart for the entire morning. You see, I go to work in the wee morning hours to my part time job where I toil away typing numbers into boxes (Whew, my fingers sure get tired). While I'm away, the kids attend Camp Granny. Granny is a champ, she is the one who deals with the morning meltdowns. She is in charge of morning work and independent reading time. I get home just in time to make the kids lunch and then we get down to business with Math, parts of speech, and all those things my kids believe I torture them with. Before all that fun we take time to share lunch together.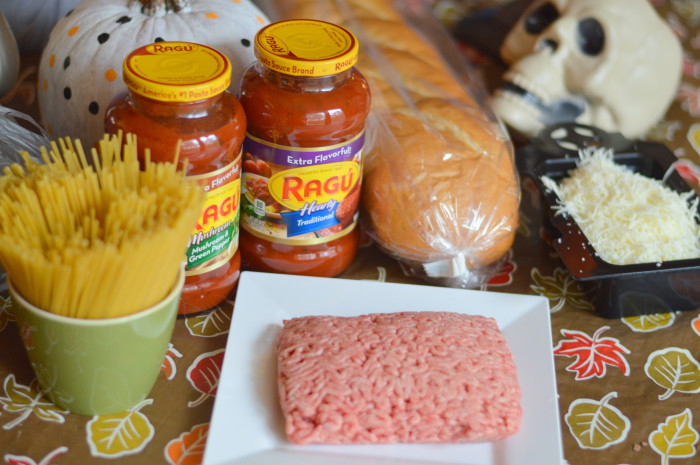 I try to make lunch special. Today I made the kids Ragu® MeatBall Spagetti French Bread. The name is still in the works (how about French Bread Spagetti or Open Face Spaghetti and Meatballs?) . This idea came from my dad while we were at Kroger shopping. I wanted to make french bread pizza for this post but the kids wanted spaghetti. I really didn't want to make two meals and I was commenting on the problem to my wonderfully patient and wise father. He said, "Make them both together." It turned out great and is going to be a new favorite dish around here.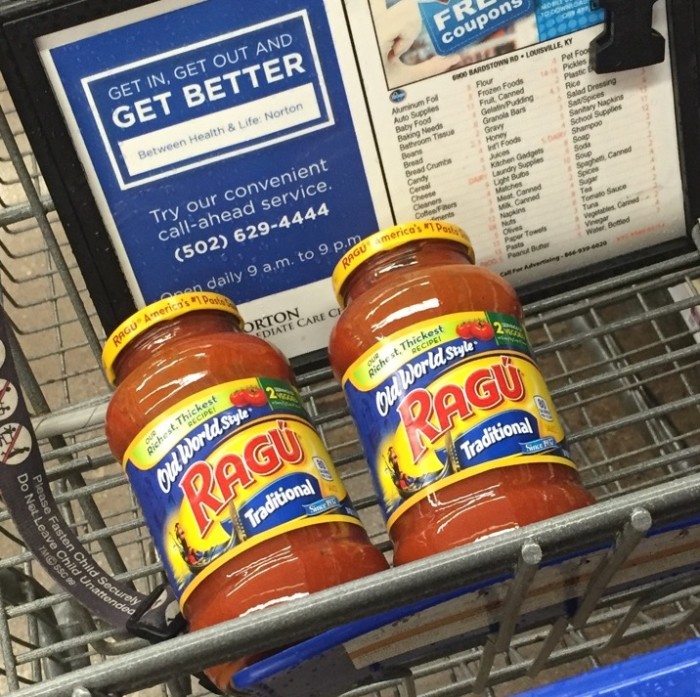 Ingredients:
Noodles
Ragu® pasta sauce
French Bread
Hamburger Meat
Mozzarella Cheese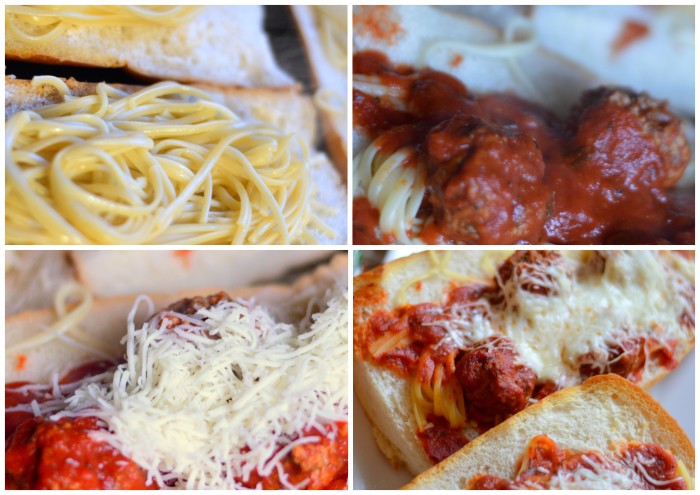 First make your noodles and meatballs. Confession: This was the first time I have ever made meat balls. Apparently, meat balls are made by rolling meat into balls and cooking it. Who knew?
Next Step, I added the Ragu® sauce after the meatballs were cooked throughout and let it till the stove was covered in splatter from the sauce boiling. That is a real time gauge around here…
They are then layered onto the french bread in this fashion: Noodles, Meatballs with sauce, Cheese. Bake at 400 for about 15 minutes or until the cheese begins to turn brown. The meat and noodles are already done so the baking process is just to melt the cheese and toast the french bread.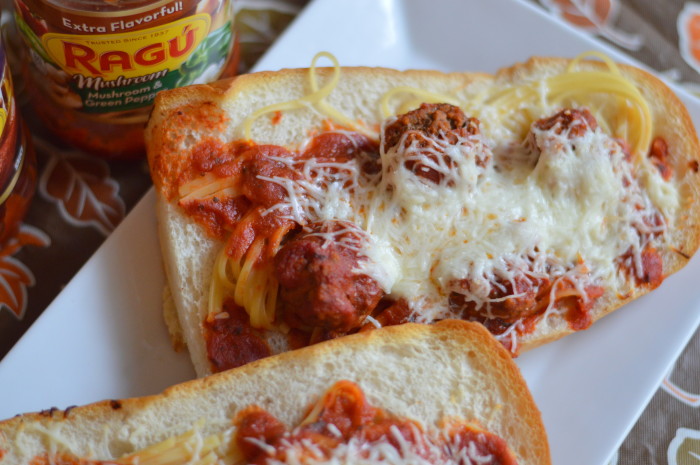 This meal is Wookiee approved. I'm not really sure what Wookiees eat but this one sure loved her French Bread Spaghetti. There is something about a good meal that makes kids more willing to sit at a school desk and learn the difference between abstract and concrete nouns. It seems as if there really is magic in the food. We can bond and plan what we are going to be doing the rest of the day. It gives me time to get all their work together and drink my coffee that I know I am going to need to make it through the school evening. And if they choose to come to the table dressed like a Wookiee, Batman, or Queen Elsa… it just adds more fun to the moment.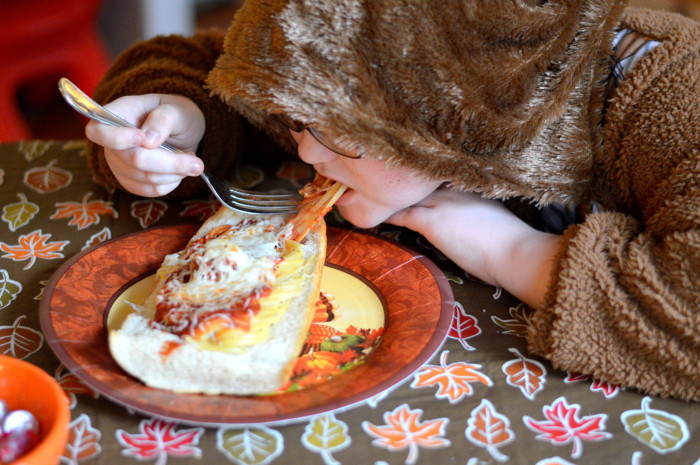 Lou Lou doesn't do school with the bigger kids. Although she has her own work she does a good job of avoiding. She spends her time being awesome and running amuck. Meal times for her are an event. The are preceded by an invitation that isn't always accepted graciously and usually followed by a bath. If she eats, I consider that meal lucky. She is still in unpredictable stage. I don't know if she is going to eat or try to wear the food as a new pair of shoes. She is like our mealtime entertainment.
Batman was at the table as well but everyone knows Batman is secretive. He is a man of the night hiding away in the shadows. He didn't wish to be photographed and if Batman doesn't wish something I'm going to listen…I mean it's BATMAN.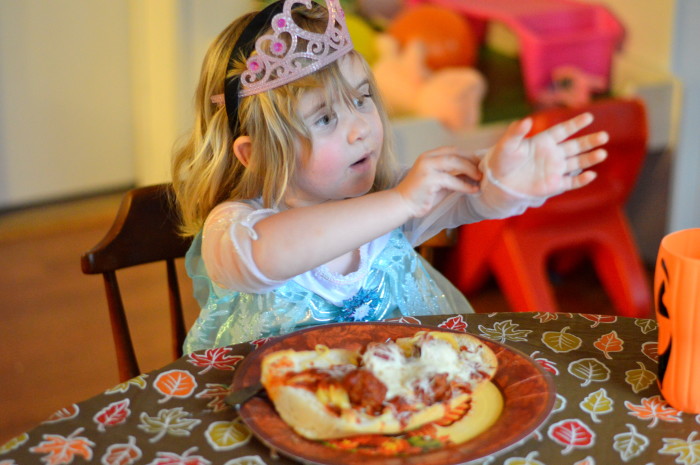 Being able to sit around the table and share our plans and hopes for the day is a special time for all of us. Meals are a great time to get together and spend much needed family time together. They are growing so fast that each day I feel like we need to make it special. Today was a great day and although in 15 years they may not remember the first time they ate French Bread Spaghetti, they will always remember the time I took to spend with them. They may not remember wearing costumes to lunch but they will remember we had fun and spent our time together. So a Wookiee, a Queen, and a super hero walk into my dining room…
Find more Ragu® recipes on their site!
This is a sponsored conversation written by me on behalf of Ragu® . The opinions and text are all mine.