"I participated in an Influencer Activation on behalf of Influence Central for Hasbro and Playskool. I received product samples and a party stipend to facilitate my review, as well as a promotional item to thank me for my participation."
Partying with Play All Day Elmo
There is nothing like a room full of kids all jumping around and have a good time. Party Planning CB out did herself this time. Chocolate fountain and all the dipping foods, cupcakes, and several varieties of sprinkles splayed in a decorative layout designed to appeal to our guest of honor, Play All Day Elmo! I'm pretty sure he liked the treats.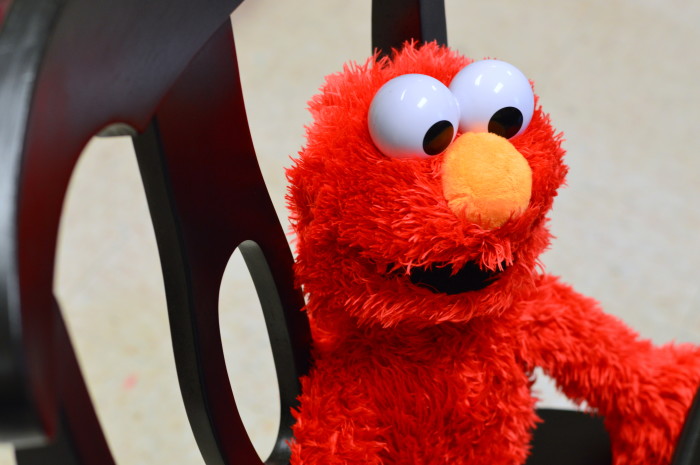 We hosted this party at the office I work at with some of my work friends, friends, and family. The idea was to party and showcase the Play All Day Elmo and it's awesome features. Including over 150 responses and 8 games and activities! From hugs, kisses, and cuddles to running and playing Play All Day Elmo is a great companion for preschoolers and toddlers.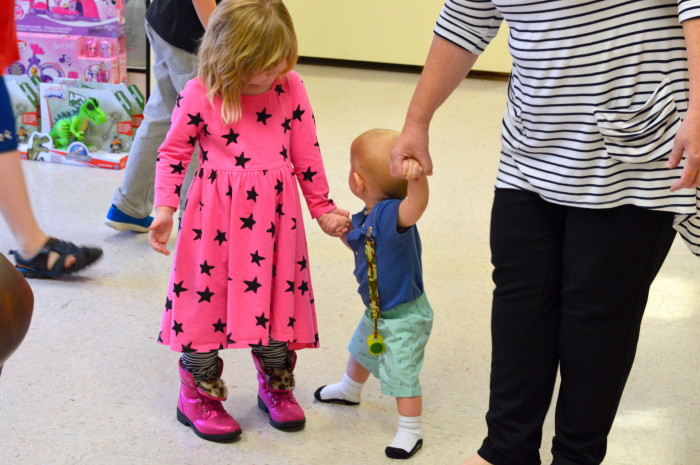 As I said, CB set up a fun Elmo themed table of goodies for the kids. We had red chocolate fountain, Elmo cupcakes, and many different things to dip into the chocolate. The base of the chocolate fountain was help up by a crayon box.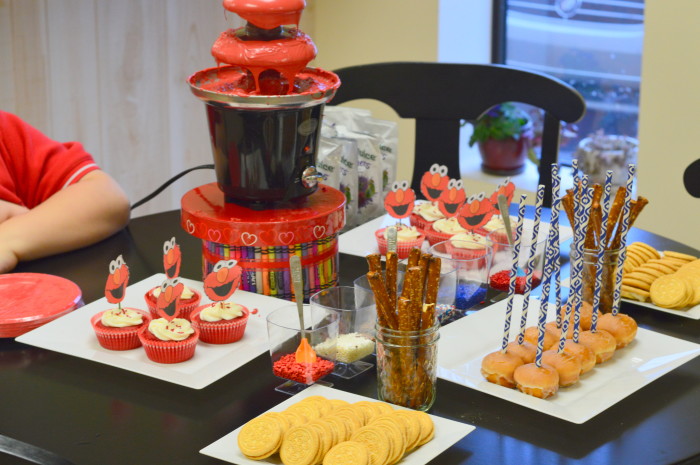 All the kids at the party loved the Play All Day Elmo. I can see his presence under Christmas Trees all over this year. He is a very interactive friend and even sings them a lullaby at night. Toddlers will like squeezing his nose and tickling his tummy while the older preschool child can play some fun games like Hop and Count, Pat-a-Cake, Freeze Dance, Animal Sounds, Elmo Says, Color Guessing, What's Up in the Sky, Red Light Green Light! To change his modes all you do is flip a switch on the back of his head.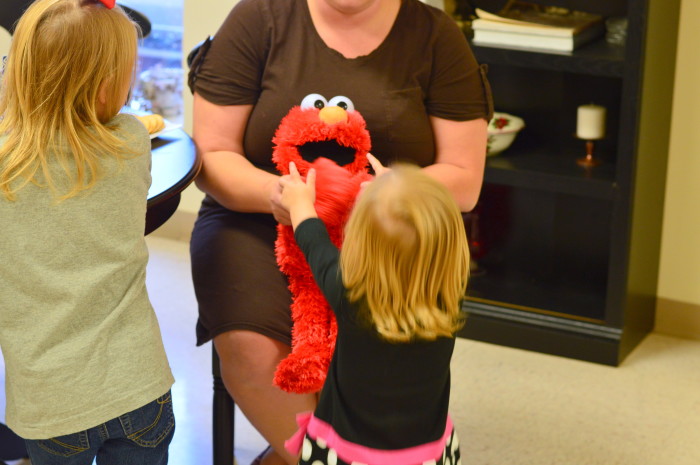 This Elmo is unique in the fact that not only is he super interactive, he is also really cuddly. Lou spent a good bit of time cuddling him and is allowing him a spot in her bed which is usually reserved for special friends and me. He has a special nap mode that helps encourage a child to settle down and rest even singing quiet songs.
Play All Day Elmo is available at most major toy retailers nationwide and on HasbroToyShop.com.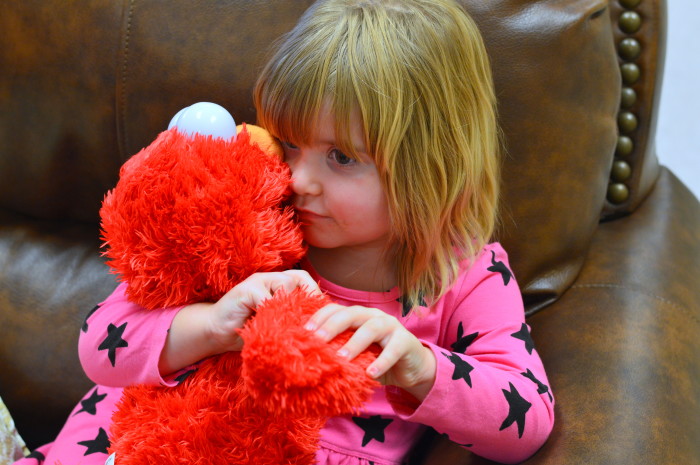 As a special gift for our guests, each guest was given a treat bag with some awesome gifts. This PLAYSKOOL Friends MY LITTLE PONY MUSICAL CELEBRATION CASTLE was a hit with all the girls. They couldn't wait to get it out of the box and I'm surprised they made it out the door unopened. The girls were super excited to see their pony friends. This castle has so much for little hands to do. The ponies included are Pinkie Pie and Starsong and are soft and SUPER cute. They can slide down the slide, ride up the elevator, or twirl around on the marry go round. The castle plays music for the different activities. When it is time for the ponies to go to bed, the pink wall flips down to make a bed for them.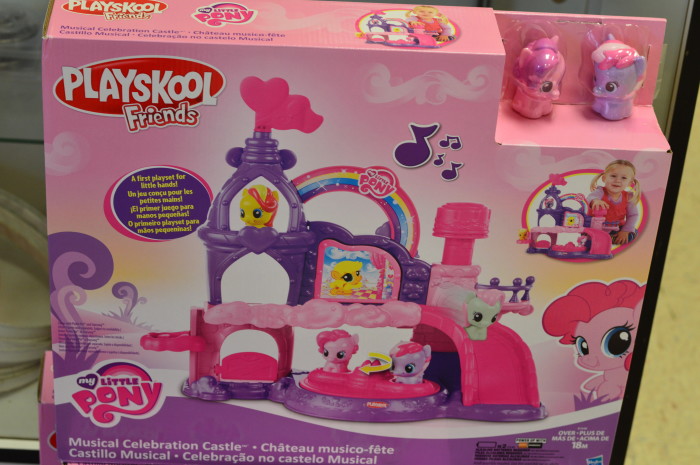 Also as part of the treat bags were these JURASSIC WORLD TYRANNOSAURUS REX from PLAYSKOOL. These dinos are especially going to thrill the little ones this year. They are adorably made without being too scary and come with a little man to play with them. When you push on their backs they make noise and biting sounds. Durable made and ready to incite the imaginative play of children everywhere, these dinos are sure to be a big hit this Christmas.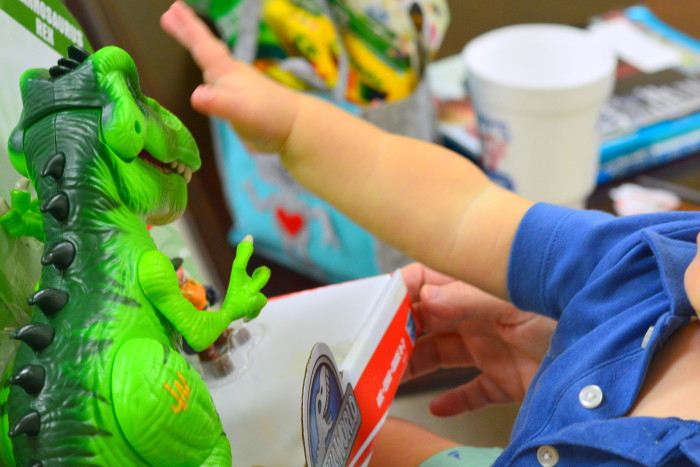 Watch our video demo of Play All Day Elmo!