I received this game for review purposes but all opinions are my own.
This week I realized that I left the battery charger to my DSLR camera at the hotel we stayed at on vacation. It was a huge disappointment but life goes on and I get stuck using my phone camera till a new charger comes in the mail. With that being said, it is pretty obvious that I need to enhance my thinking skills. I need to learn to think ahead and be able to teach this skill to my kids. What better way to learn and practice logic skills than a fun creative logic game? See, I am using those logical skills already.
I was so excited when I was picked to review Code Master. I really didn't know what to expect but the cover reminded me of Bub's ultimate obsession, Minecraft. I thought it would be a fun game he and I could play together and I was super excited to get it in. I never realized that it would be a game that not only Bub and I would play but one that I can't keep away from the adult men in the family long enough to play. My husband and dad love it.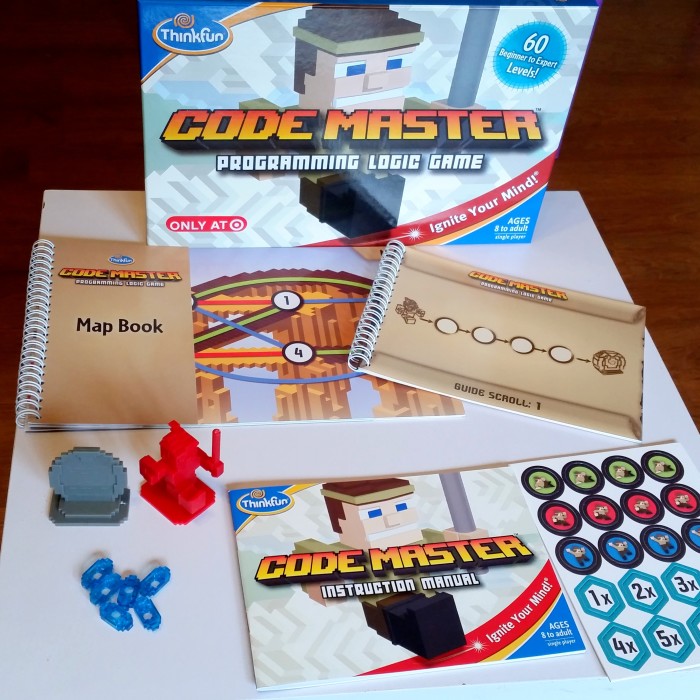 Purchase Game Here:  Target
Inside the box there are several pieces. This isn't your ordinary board game. There is the Map Book which is kinda like your game board. The guide scroll is what you work the puzzle out on. The tokens are used on the guide scroll to create the program code you will execute to get the man to the portal (more on that in a moment). The man, portal, and crystals are solid and super cute… I mean look cool (Bub said cute was a girl word). Also included are easy to understand instructions.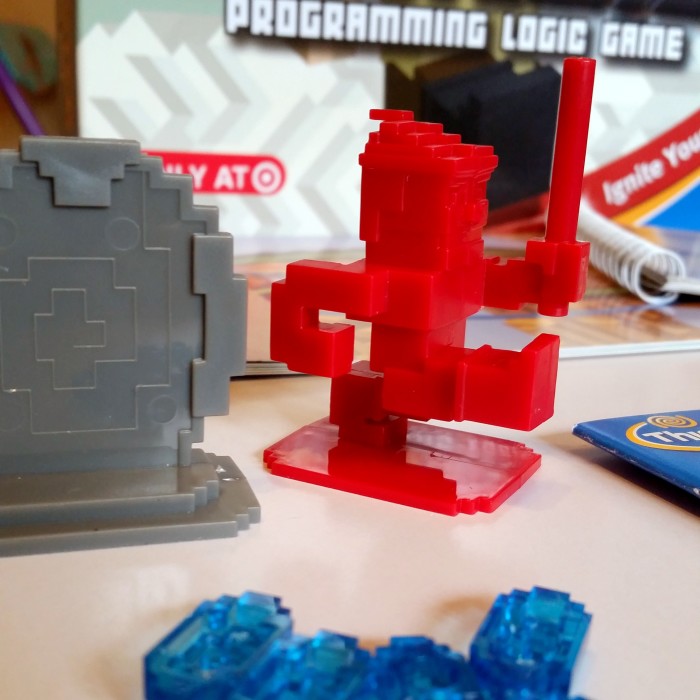 The game is designed to teach logic and strategy while encouraging the kids to think ahead and envision the process in their mind. The object is to get the man to the portal by building an action code. To build the code the player is given a certain number of moves and action tiles. They have to arrange the action tiles on the game scroll to create a script. Then they execute the script by following the same color lines on the map. The end goal is to get the man to the portal and pick up any crystals along the way.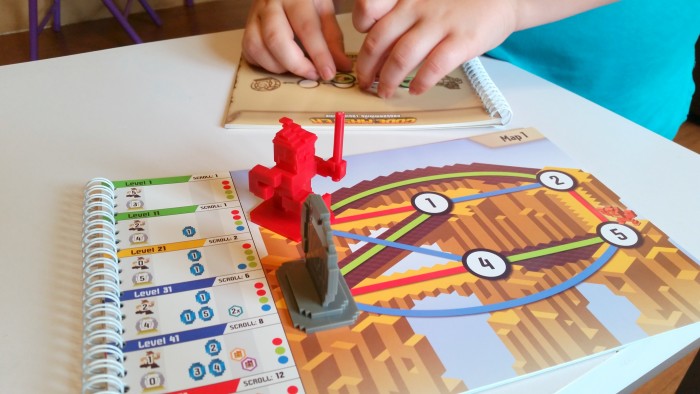 The whole game was made very well from the solid plastic games pieces to the colorful high quality booklets. I think it will hold up for a long time.