It occurs to me that my oldest is quickly following in my footsteps in most ways. She is an old soul with a writer's heart. At ten she has already accomplished so much and has a bright future ahead. I also think there is a blogger emerging from within her.
She came to me this morning with an excited look on her face. In her hand was a plate with pancakes on it. The pancakes were the mini frozen pancakes from Eggo found in the frozen food section bought for emergency breakfast when the snooze button is pressed one too many times.  She was happily showing me her idea which was to put Nutella spread in the middle of two mini pancakes. I smiled at her and acknowledged her good idea as a momma should. I tried one and exclaimed loudly praises of how good they were. Then she said those words that you mostly only hear come from a blogger, "We need to photograph them for a post." I knew with that simple sentence that she had gotten the blogging bug. She arranged the plate on our photo table and pulled the blinds to make sure she had natural lighting. I have taught her well. Twelve pictures in all were taken of this plate of pancakes. TWELVE high resolution photos shot with a DSLR of a plate of pancake sandwiches. I held back my laughter as I watched her hover of the plate of pancakes snapping photos with the intensity every good blogger should have.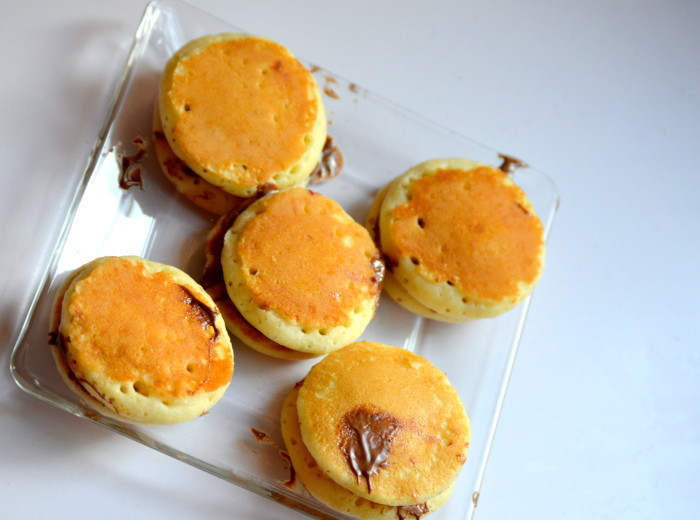 The photos done, the idea fully documented, and my little blogger wannabe satisfied that she had captured the moment fully. She skipped happily off with her now plate of cold pancake sandwiches leaving me with twelve pictures and strict orders on how to write up her post. None of which I have followed as of yet.
CB's Pancake Sandwiches:
Eggo Mini Frozen Pancakes
Nutella
Smear the Nutella between the pancakes and eat. The more Nutella the better in her opinion.