The Perfectly Perfect Productivity Product for Pupils to help them progress to success… Say that five times fast or you could just keep reading and find out more about the Microsoft Store Surface 3.  Thanks Microsoft for sponsoring this post. All opinions are my own. #Surface3
Check out Microsoft's New Surface 3! It has it all!
With home school time quickly approaching, I have been searching for the best materials to use. I recently was given the chance to talk about and preview the specs of the new Microsoft Surface 3 which will be available in stores or online May 5th. This tablet is amazing and exactly what I have been searching for to add to our home school classroom. With up to 10 hours of battery life for loads of research time, the ability to use a pen (sold separately) to draw and write on the screen, and USB port, mini sd card drive, and other ways of quickly transferring data and files between devices, It has everything I was looking for in a sleek 10 inch feather weight package with a FULL HD screen. Throw in it's attachable keyboard (also sold separately) and I may need to get me one to blog with too. With this Windows based tablet you can have windows apps and desktop software open at the SAME time. I can't imagine how much time and energy this would save me.
8 mp back camera!
FULL HD screen!
1.37 pounds of total usability!
Up to 10 hours of battery life!
Touch: 10-point multi-touch!
For more information go check it out!
Yes I know, I want one too. How can we get our hands on this beauty?
The Surface 3 from Microsoft Store is available for preorder NOW, online and in stores May 5!
Suggested Retail Price is $499 for the 2 GB of RAM, 64 GB of storage version!
Click here to find the location closest to you.
For the week following May 5th Microsoft Store will be hosting training times to help those who purchase a Surface 3 learn to use their new technology!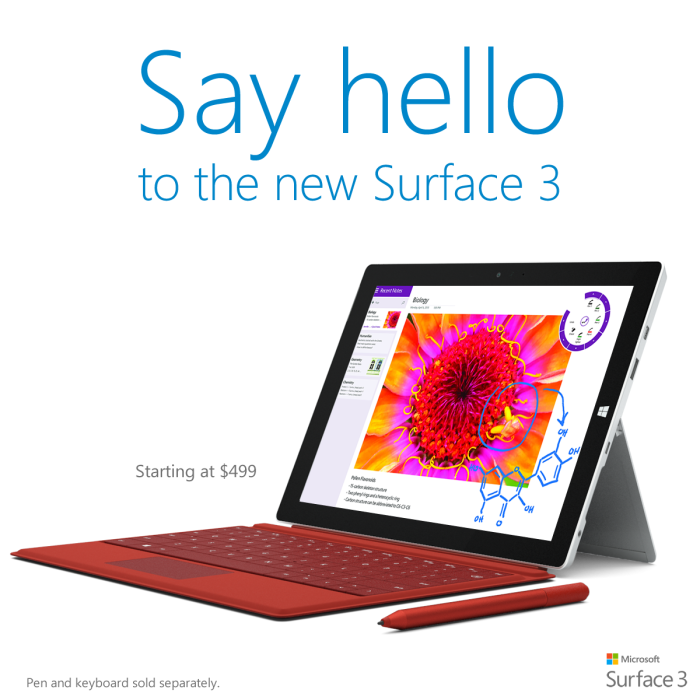 Check out the Surface 3, available from Microsoft Store or MicrosoftStore.com.
Join me for a party!
Microsoft Twitter Party on Wednesday, April 29 at 6:30 pm PT / 9:30 pm ET.
If you just can't wait to check out the new Surface 3, you can get a hands on show at your local Microsoft Store! There you will find smart helpful people who can show you just how powerful the Surface 3 is! You can preview/pre order the Surface 3  and other Microsoft technology from Microsoft Store in person or online at MicrosoftStore.com. You could always use the trip as an excuse to test out their vast knowledge with your many questions at the Answer Desk.
If you go after school on May 5th, starting at 4pm the store will be hosting a fiesta-themed after school celebration! As a reward for all their hard work students will be treated to a 10% discount as well as Surface-branded swag and more!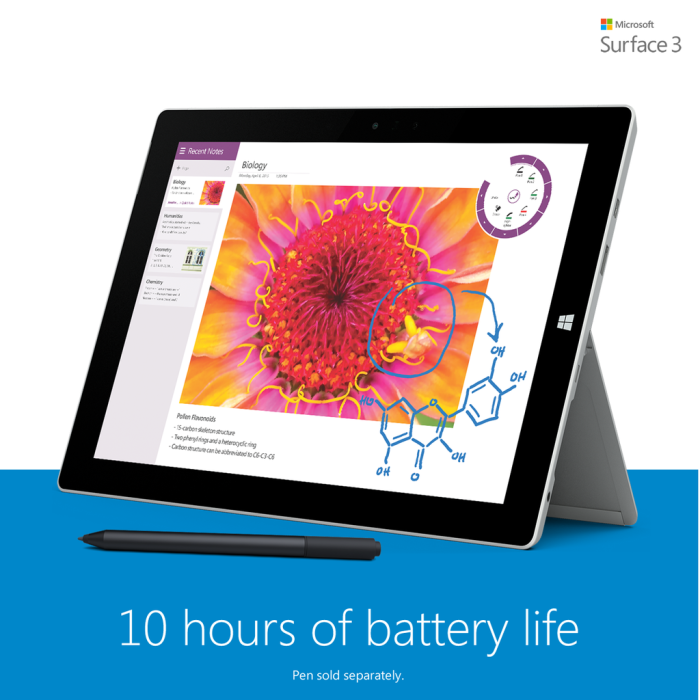 Don't forget to join me in one or two awesome twitter parties!
Microsoft Twitter Party on
Wednesday, April 29 at 6:30 pm PT / 9:30 pm ET.
and/or
Tuesday, May 5 from 8:30-9:30 AM PST
This is a sponsored post written by me on behalf of Microsoft retail stores.