Unplugged Play with Pacific Play Tents "My Pirate Ship" Play House
We received this product for review but all opinions are our own.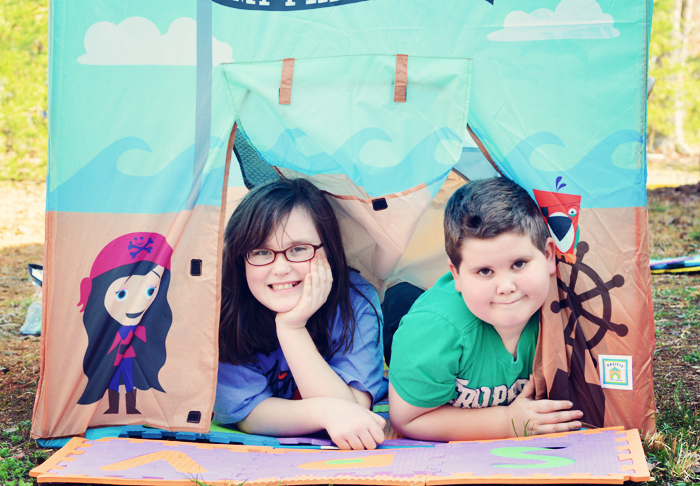 Check out Pacific Play Tents site for more awesome tents and tunnels or
you could visit them on social media!
Pacific Play Tents: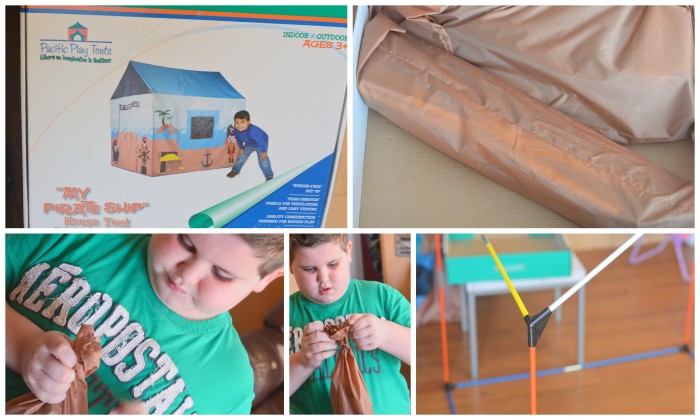 Straight out of the box this tent is awesome. This is the first tent (among double digits) we have owned that is COLOR CODED for easy set up! My 8 year old son set it up himself with just a glance over the instructions. It was a very quick set up. CB was at an after school program and we only had ten minutes to look at it after the UPS guy dropped it off before we had to leave to pick her up. I figured we would have to wait till after we picked her but he had it opened, put together, and got to sit in it before we left and he did it all on his own.
Here is a how to video for putting the tents together.
The tent box said this is an indoor or outdoor tent so we took it outside to properly test it out.
Two kids (ages 8 and 9) vs The Pacific Play Tent "My Pirate Ship" Play House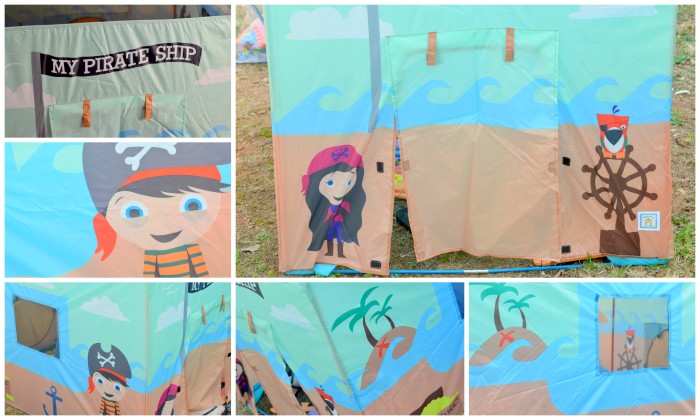 The tent is still standing strong and looks like it did when Bub first put it up!
In fact we took it back apart and put it in the toddler's area for her to play with. It has survived the toddler trial as well. Although now it is no longer a pirate ship but a tea party princess house, complete with a child sized table and chair, tea set, and a bunch of baby dolls.
What I like about the tent is the physical imaginative play time and the fact that all THREE children can comfortable sit inside of it and pretend to be pirates. The toddler can actually stand up and walk around inside which is a first for us on tents too. I also like that it is made out of sturdy material and the windows and parts of the roof have breathable material so it's not all stuffy inside. There is also two entrances, one of which is a tunnel connect circle, which is really a good thing for when they are all in there and they want to make someone walk the plank.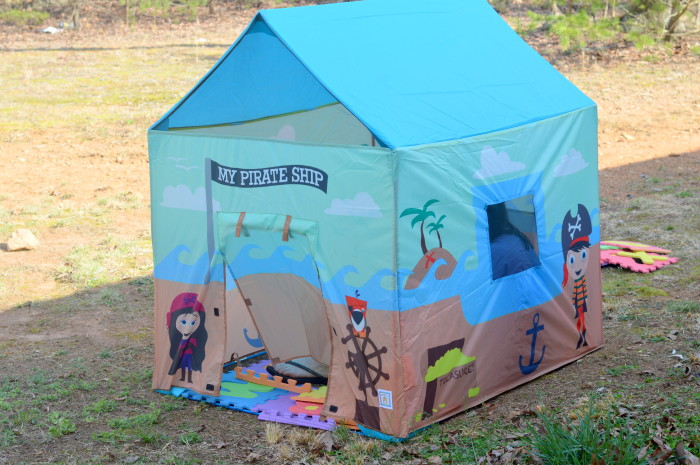 Did I mention it comes with 2 carrying bags to put the posts and cover in for storage or travel? They can take this tent on vacation with us and have their own relaxing area in the hotel room. They are really excited about that!
A comparison video of Pacific Play Tents and other tents. This video kinda made me laugh because it reminds me so much of playtime when the whole family is over at my house. I have seen many tents get put through these tests…
More info about this product:
"My Pirate Ship" Play House • Item #60501 • $ 75.99 • Ages 3+ Ahoy mateys! Climb inside this adorable playhouse with an ocean blue top and colorful scenery of life at sea. Look for standard tent features like mesh panels (fine enough to keep out gnats and tiny bugs), windows and tunnel ports with roll-up flaps. Erecting this tent is easy with color-coded quick-connect poles. When play is over or it's time to travel to Grandma's house, tuck everything neatly into the enclosed carry bag.