Taking the Stressing out of Testing with Carson-Dellosa #IC #SpectrumTestPrep #ad
I participated in an Influencer Activation on behalf of Influence Central for Carson-Dellosa. I received product samples and a promotional item to thank me for my participation.
Learn more about Carson-Dellosa:
CB is a VERY smart girl who has ranked in the 93 percentile of 4th graders in classroom work. She can read on a eighth grade level and is already doing seventh grade math. I'm not saying that to brag (although I do have the right, I am the momma), I am saying all that to get to an actual point. Even though she has the highest reading level in her class, even though every year I have had teachers tell me that she has surpassed every goal or standard, or that she can grasp college level work when given to her, or she can recall a book she read when she was five… she just can't handle a standardized test. She freaks out.
It's stress, plain and simple. She has placed so much value on these tests that emotionally she shuts down. That is why she is not in a gifted program. She is being held back by her inability to fill in bubbles to questions she knows the answers to. This is the reason I jumped at a chance to review  the Carson-Dellosa Spectrum test prep program. I was hoping it would help her see that tests are not something to fear or stress about. I wanted to give her the opportunity to grow and do her very best in school. That is what us parents do, try to help our children succeed. I wasn't disappointed.
Spectrum Test Practice workbooks simulate the actual test taking experience. The pretests looks very much like the tests they take at school. The language and structure of the problems are similar to what she has seen before. It was a little different for her to take the tests at home. She was able to focus and relax.  The tests will help her learn to follow directions, be able to focus on different test formats, and to use her testing time more wisely. I think she even enjoyed the process. Each day she asks for her "study time". I make sure the house is quiet and she can focus on the task of the test. I want her to be able to see that she can do anything she wants in life and not be so afraid to fail that she can't do her best.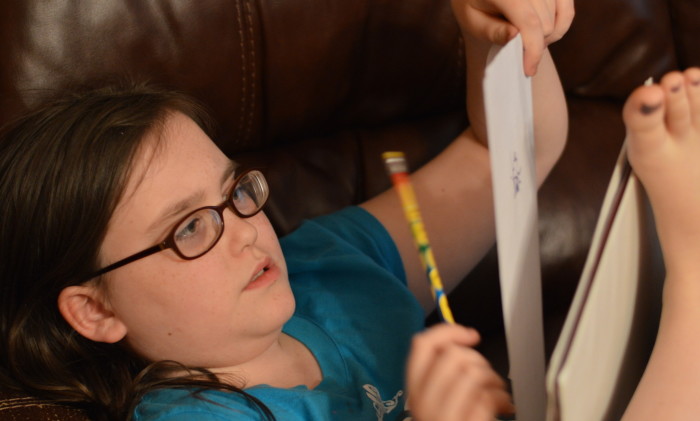 I am hoping that this relaxation and being able to focus on the actual test taking process instead of the stress of failure, she will be able to relate those same feelings when the real test at school comes. Those EOGs will be here before we know it. Last year she didn't sleep for two weeks and cried every morning before the test. I am hoping this year that will change and she will be ready because she will know what to expect. Thanks to her practice tests with the Spectrum Test Prep and Practice workbooks.
The Carson-Dellosa Spectrum test prep program comes with pre tests, mid-tests and final tests to help parents and their child track their progress! CB did improve on her test taking process. I was mostly surprised by the speed and recall of the reading passages. I knew she was good but by the second week she was not even having to reread the passages to answer the questions.

Carson-Dellosa Publishing Group was founded by teachers and has a 35-year history as the leading supplemental education provider for teachers, parents and students. The workbooks we reviewed were very age appropriate and are great to help prepare students to take tests more successfully. Their practice test books align with Common Core Standards and what they are learning in the classroom. Spectrum Test Prep and Practice workbooks help to alleviate anxiety for parents and teachers with proven testing strategies and testing materials.
Learn more about Carson-Dellosa:
What do you do to help relieve the stress of test taking for your child?