It's cold outside, but I don't have to say that because you probably already know it is. Today I am sharing with you a few animal coloring pages that go along with a new theme I am working on.
The Arctic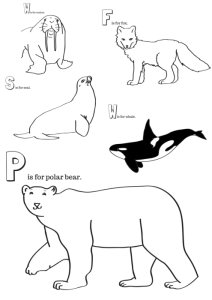 These are animals that live in cold cold places. Places that would make my cold feel like a tropical paradise.
 Included images in the download:
P is for Polar Bear
W is for whale
W is for walrus
F is for fox
S is for seal
These are printer friendly and free to use for any personal, daycare, church, school, or home school use.
Suggestions, requests, questions, or comments?
Email: minituremasterminds@gmail.com
Click each image to download the full size.
Download Terms – All printable images and games are free to download and use as you choose, except for claiming as your own, modifying, or redistributing as your own. Feel free to link to this page but not to the download itself, if you would like to share downloads. All shares are appreciated. Permission to use 1 image of your choice is given. Thank you for respecting these guidelines.