It has taken some time to get back into sewing… It has been a little bit of a break since I have had time, willpower, and work space to actually get my head into it. CB has very recently taken up wanting to collect 18 inch dolls and although she has had a few in the past she hasn't really taken care of the poor dears. Mostly they have sit around in her closet naked or have been given to more deserving homes. If I had known she would want them now I would have held on to them. We did keep the Samantha that was mine but I have given away the one we got her and a Molly we lucked into at a yard sale. They are in a good home where someone loves them and appreciates them so I suppose it was a good thing. But now we have the problem of a little girl who wants to play with her long neglected naked dolls. We went looking for clothes and my goodness I could buy myself a wardrobe so I have been sewing her a few pieces just to get her started.
I have no idea why I felt the need to go into that whole spill. I guess to justify why we are currently on a doll clothes kick.
Tonight was a leotard from a pattern from  Arts and Crafts for your American Girl Doll. This was amazingly hard because of the choice of fabric and there are a few spots I'm not proud of such as the hem on the white sleeve. That is the first time I have ever worked with that kind of material. It kept trying to run away on me and I was about to throw it  as hard as I could out the window. The pattern itself is well done and worked perfectly.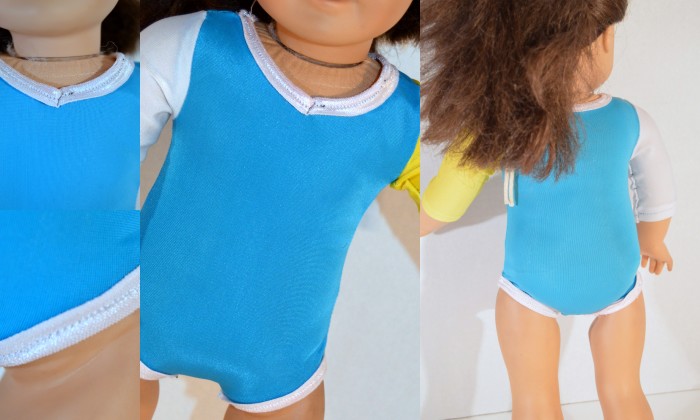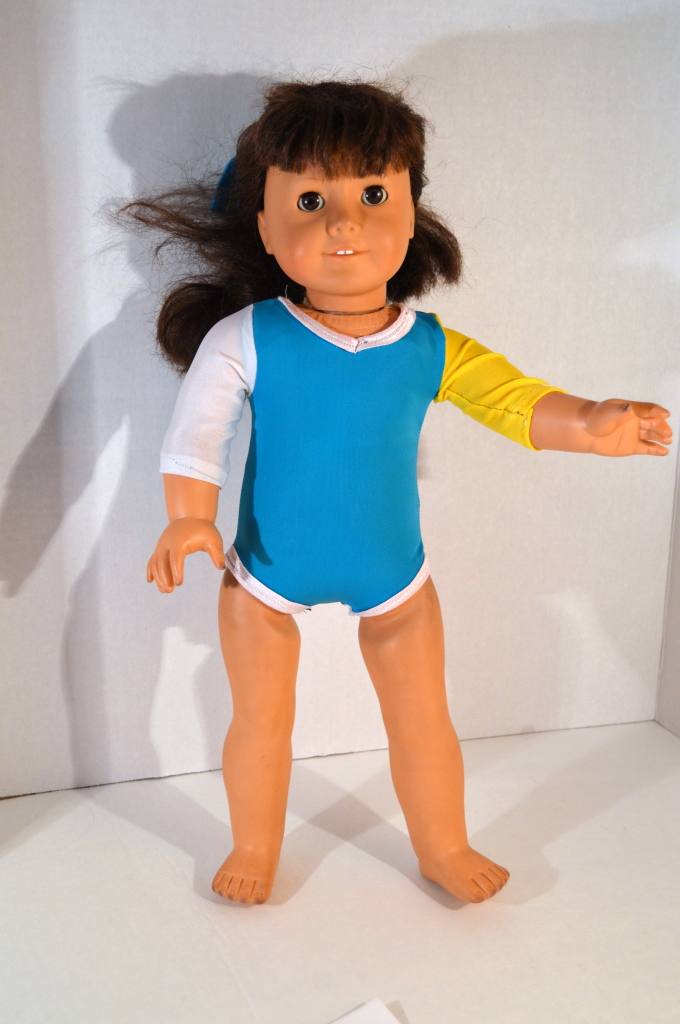 By the next project I kinda had my feel for sewing back so I went off on my own and made my own pattern. I really love how this one turned out. It's a dress for her to wear to church tomorrow. CB has since added a little lacy purple flower to the waist and it is now perfect. I used Velcro peel and stick tabs made for fabrics for the closer. Those things are AWESOME. They stick and are so easy to place. They are perfect for doll clothes.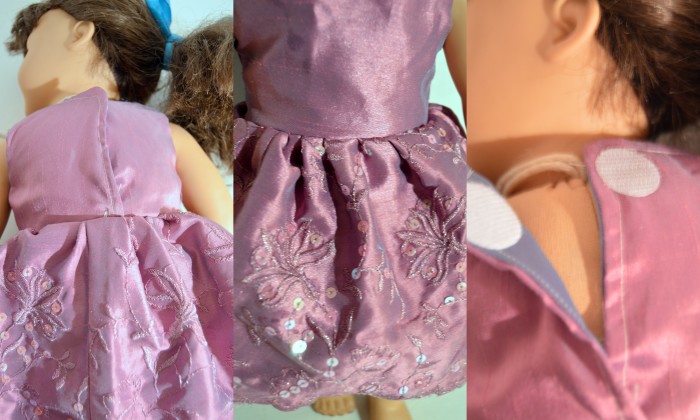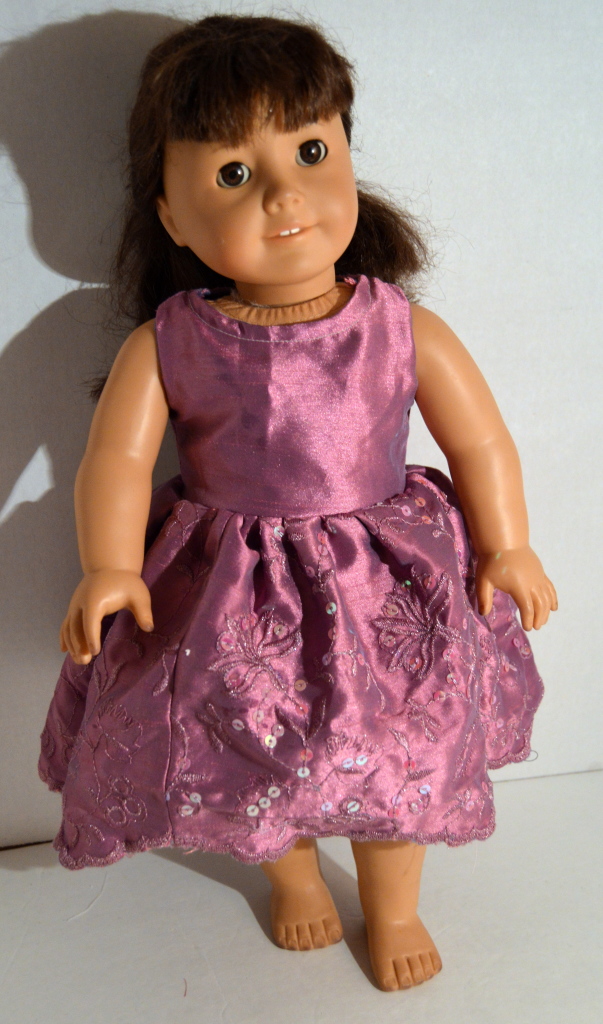 Also I was going to introduce you to her new 18 inch doll she got with her own money today. She named her Lucy. We went to 3 different store that sell 18 inch dolls for her to pick this one. She is rather cute with her braids and freckles.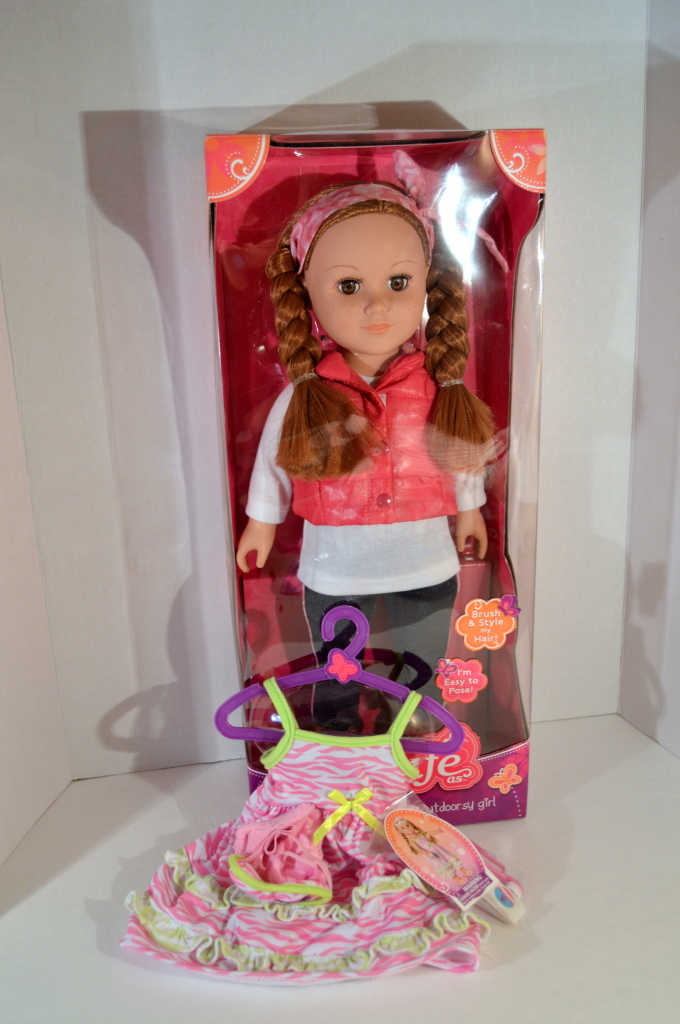 I did receive Velcro sticky dots for fabrics to facilitate a review but all opinions are my own.