Winter Weather Wear Worksheet
 What would you wear on a cold day?
EDIT: MARCH 5,2015- I made this worksheet for fun one day and it has surprised me how popular it had become! I have edited to include the high quality pdf file for better printing!
Just for fun I made this Getting Dressed for Snow worksheet. It's a good worksheet for preschoolers to learn about appropriate dress for winter weather. There is a scarf, hat, shorts, coat, boots, t-shirt, mittens, and a swimsuit. The object is to circle the articles of clothing you would wear in the winter.
This worksheet works well with the Preschool Winter Weather Fun Pack.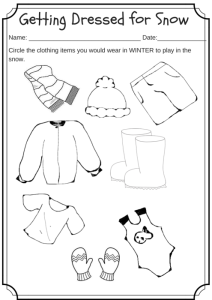 Download Terms – All printable images and games are free to download and use as you choose, except for claiming as your own, modifying, or redistributing as your own. Feel free to link to this page but not to the download itself, if you would like to share downloads. All shares are appreciated. Permission to use 1 image of your choice is given. Thank you for respecting these guidelines.
Free for use in school classrooms, daycare classes, churches, or home schools.