First I want to say… I am NOT a cookie decorator with any means of talent in that area. If you want pretty cookies that look perfectly wonderful you should look at the cookies over at Ruffles and Rainboots. Now with that said and giving no one any hope of finding a pinworthy cookie design I will continue. I know there are others like me that have skills in other areas that are not related to cookies. That is why I share this simple idea…. Snowflake Oreos.
It's a really simple design that looks cute. The icing I was using was a prepackaged cookie icing and little on the hard side. I think it would have been better using homemade soft royal icing but they turned out cute enough for my crew of Frozen addicts. Lou calls them Elsa Cookies and just really licked the icing off. She isn't much of a cookie eater.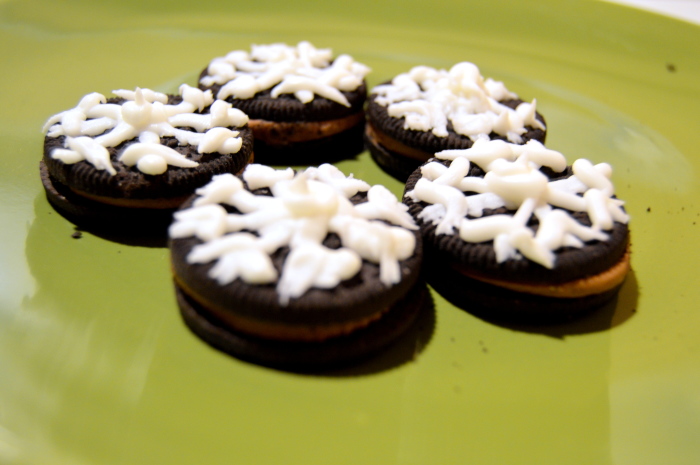 If you have any talent in the candy melt area (an area I am trying my best to stay out of) you could cover the cookies in a teal color and then add the snowflakes for a cute addition to any Frozen themed party!
Just one simple idea from on wanna be yet talentless cookie decorator to all you other non Pinterest professionals and Pinworthy Creators alike….
By the way, anyone else have any cookie ideas that require little to no decorating skills? Link em in the comments for me because this here and this post about ugly Christmas cookies are about the extent of our skills.