New Year's Resolution Writing Activity
Today's printable activity is a writing activity. It's about what we tried to do last year and what happened compared to what we plan to do this year. This activity is made to help the children think about what they have done compared to what they want to do and make plans to accomplish those goals.
What are your New Year's resolutions? 
The two questions asked are:
1. What are some things you tried to change in the past year? What happened?
2. What are some goals you could work on the year to come? How do you plan on achieving these goals?
Recommended grades: Second grade and up.
Just click to open full size image and save or print.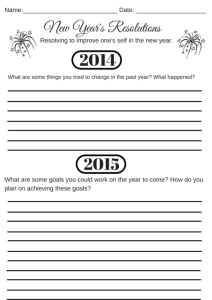 Download Terms – All printable images and games are free to download and use as you choose, except for claiming as your own, modifying, or redistributing as your own. Feel free to link to this page but not to the download itself, if you would like to share downloads. All shares are appreciated. Permission to use 1 image of your choice is given. Thank you for respecting these guidelines.
Free for use in school classrooms, daycare classes, churches, or home schools.