Disclaimer - I received this box to facilitate this review but all opinions are my own.\
I know I have talked about presents for Mom, Dad, Kid, and family but what about one of those unsung special people in a child's life. Someone we don't think about often but plays a HUGE role in our children's lives… Their Teacher! Elementary Box is a subscription service developed for teachers by teachers. It's a wonderful thoughtful gift that any teacher would love to receive. It's a care package for the person who take so much care of the ones we love.

By the way, this is a special sneak peak at the December box! 🙂 
Learn more about Elementary Box !
Facebook      –     Twitter     –     Pinterest    –      Google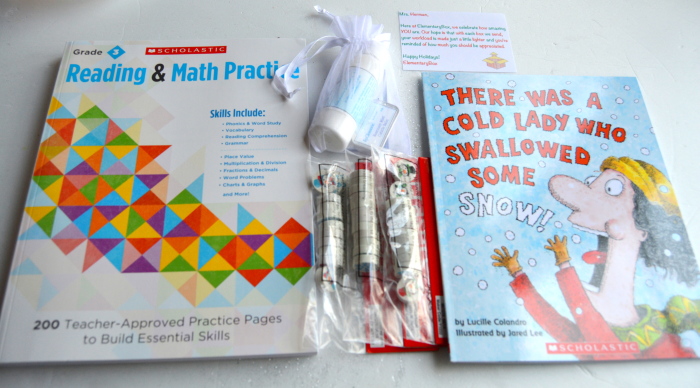 What was in the box?
Classroom practice book
Special gift for Teacher
Erasers enough for the whole class!
There was a Cold Lady Who Swallowed Some Snow
Pricing:
12 Months – $25 Monthly
6 Months – $27 Monthly
3 Months – $29 Monthly
Free Shipping on all subscriptions and you can cancel anytime.
Our favorite was this gem.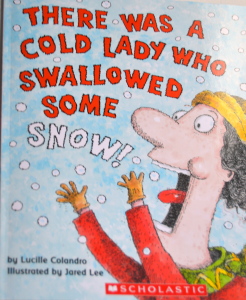 I had never read this book before but I have seen it all over the place. We did read the book before I sent it off to it's intended new home. It's an interesting book and I will have to order it for us to have our own copy.
Let me tell you about why this box was so special to me right now. My son has had a rough go at this school thing. He is not the average child. He is quite, shy, and isn't much of a people person. He can be lazy when it comes to school work. He has a hard time with a lot of social situations. He is a lot like me in that. Most teachers have had issues in figuring him out so far and thus have pretty much ignored him. He hasn't really liked school and has had bullying issues. Even though he is really smart he hasn't been showing it. That has all changed this year. This year his teacher is a kind wonderful woman who has found the key to Bub's learning potential. This year he loves school. This year he does his homework without complaint. This year he is excited about learning and is motivated! I couldn't be more pleased with this year! Teachers make a difference. Teachers that care are wonderful and should be treated like the blessing they are. My son is a different person because someone other than family has taken an interest in his well being and his abilities. I couldn't be more thankful.
This year when I say what I am thankful for it will include a woman who will not be at our table physically but I will always be grateful to her.
I was luck enough to let Bub give her this box as a thank you for all she does because she does so much for all the children in her class. Teachers like her should be appreciated!
And in return she wrote us a sweet thank you note back.
Disclaimer - I received this box to facilitate this review but all opinions are my own.