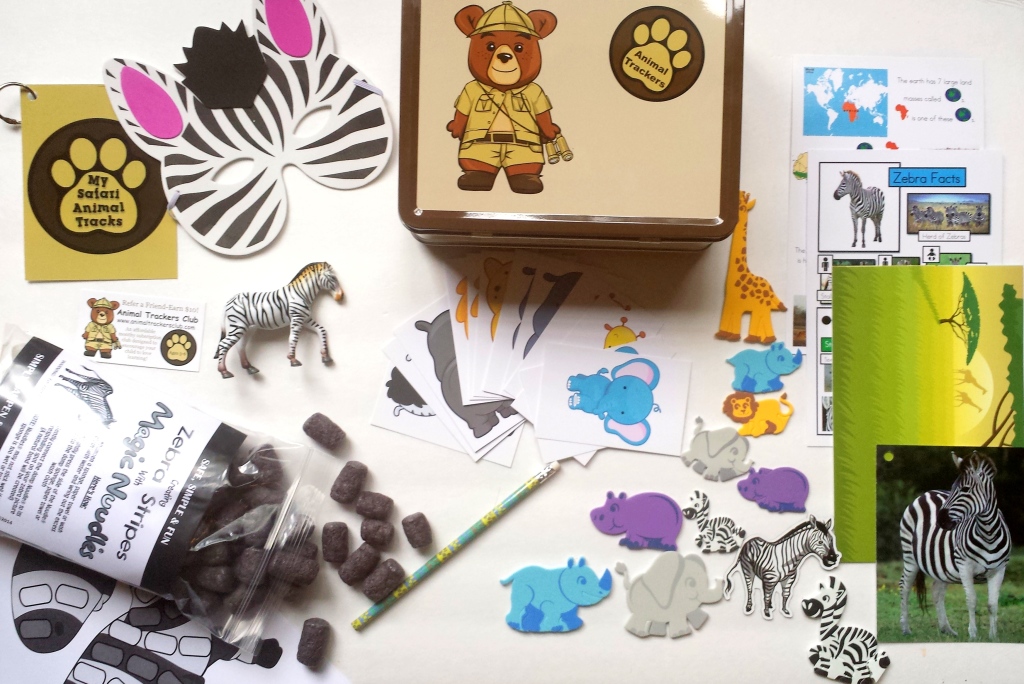 My kids, like most, LOVE animals. CB has this obsession with pigs that has overflowed into nearly every corner of her room. She even wanted to start a blog about pigs. Lou is a little more diverse she loves anything with fur or scales, from bears to fish. Bub is a dog lover, he has a stuffed dog named Sneakers he has had since he was born. Animals are a big hit around here. I was so excited when I was selected to review this subscription box because I knew it would be one the kids would love. When it came, we were a little surprised. It was Zebra themed. The Zebra is CB's second most favorite animal and it's a super close second, all I heard was… "IT'S MINE!" at a ear pitching screech level.
The box came with a metal lunchbox type box that was soo adorable. Lou has been packing it with lots of goodies to take to church. There were also Zebra informational pages, worksheets, an activity, card game, pencil, art project, mask,  magnet, zebra toy… and Zebra picture. Each month they have a new theme and they each come with pictures! There was also a key ring holder that you put your pictures on each month and collect all different animal cards.
The animal card game was so cute. It's a matching game with the front of the animal and the back of the animal.

More Information about what is included in the service.
Your child's adventure begins with:
Introduction to the Animal Trackers Club
Animal Trackers Club Safari Lunchbox
African Savanna Information Card
Cover and Ring for the Safari Animal Photo Collection
Savanna Art Project
Savanna Animal Cards Activity
Each month your child will receive:
Animal Information Card
Animal Play Figure
Animal Foam Mask
Animal Magnet
Safari Animal Photo Card
Learning Activity
Art Project
There are 4 plans available for purchase.
Monthly Plan $11.95 +3 shipping
3 Month Plan $36.00 +$3.00/month Shipping
6 Month Plan $70.00 +$3.00/month Shipping
12 Month Plan $135.00 +$3.00/month Shipping
This box is really nice and for the price it's wonderful at 11.95 +$3 Shipping.  If your looking for a Christmas gift for a kid 3+ this is a great deal.
I received one or more of the products mentioned above for free using Tomoson.com. Regardless, I only recommend products or services I use personally and believe will be good for my readers.