This past weekend we had one of the funnest parties we have ever had at the house.
GoldieBlox Party!!!
It was the party of the year for us as CB and 6 of her friends plus little Lou and a couple of the guys competed in a fun contest.
It was a friendly race where they had to build their own cars with Goldieblox.
CB made this adorable centerpiece for our table to showcase some of the different Goldieblox pieces.
Goldieblox are an awesome engineering product for girls. They encourage them to think and create. Goldieblox are designed to increase a girl's interest in engineering by getting them building. Goldieblox was made to spark a girl's interest and help foster the love of math, science, technology, and engineering.

Here is an ADORABLE video you really should watch!
GoldieBlox Social Media Links!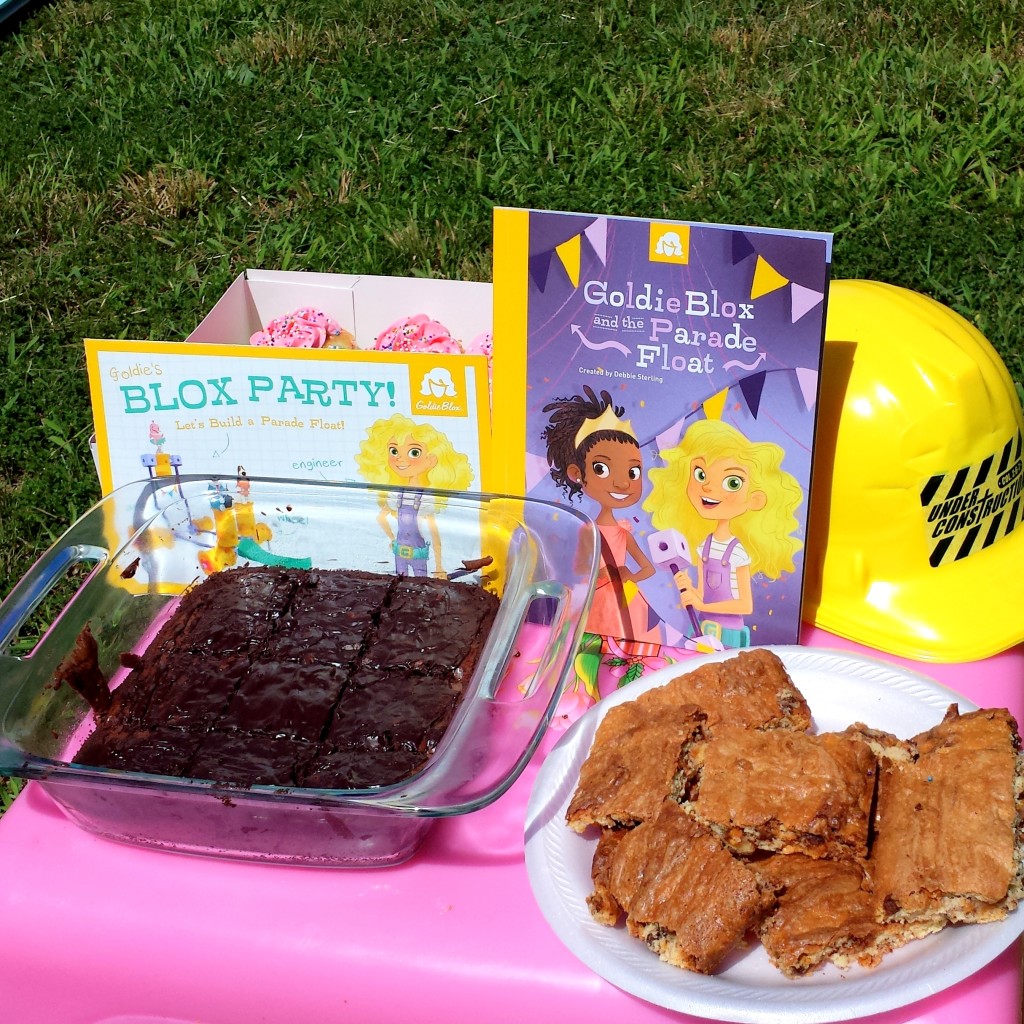 We ended up with four teams of two and 1 team of 3. One team was boys and the rest was girls. Each team was given the name of an animal of their choice to decrease the whole I was on team 1 or team 2. Everyone started on an even foot. I also found these super cute adorable construction party hats, everyone had one but not everyone wanted to wear one.
We had 5 teams:
Team Pony  which was CB, P, and Lou. The three member team, although to be fair Lou helped everyone.
Team Bear – CB's friends T and G
Team Puppy – CB's Church friends A and S
Team Kitty – CB's friend's sister and a neighborhood girl – A and L
Team Turtle (the boys) – Bub and J
Their goal was to build a car for a big race.  I had a couple of questions for them to answer along the way.
What design additions would make the car go faster?
What design features were relevant to the function of the car and which ones were just for looks?
GoldieBlox Materials were provided for the building process.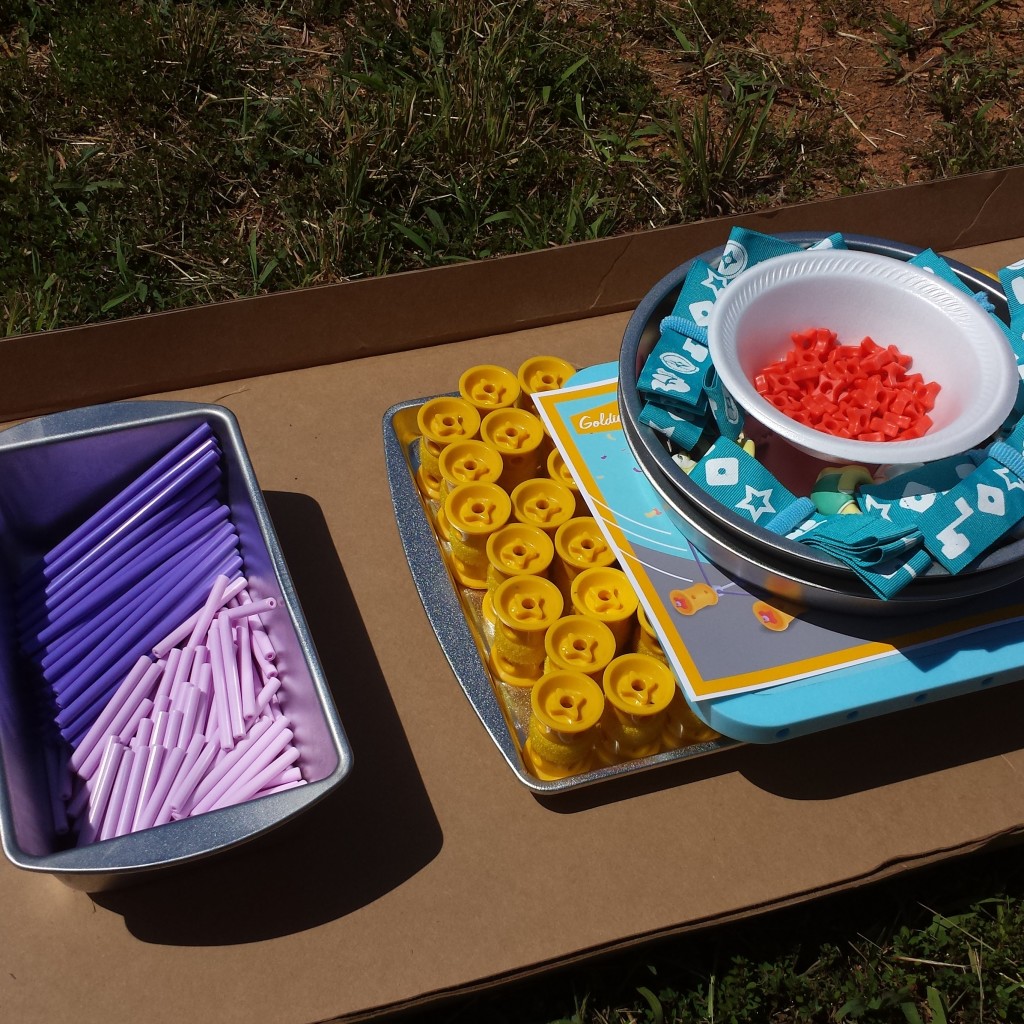 I used cake pans to sort the pieces to kinda inadvertently on a subconscious level  show an item being used in a way other than it was intended. They also worked really well to display everything inside the box the ramp came. By me showcasing the items in reused materials different than their original intended use, I was hoping to give them the idea that they could too use materials in ways other than the ones they were told. One of my goals in life is to teach my kids to think outside of the standard and be unique and creative.

The workstations were thick Styrofoam poster boards set apart from each other so each team had their privacy. It was also really sunny that day and we aimed to put them in the shade as much as possible. I wanted them to be able to move freely and explore as openly as possible which is why I chose to have everything outside.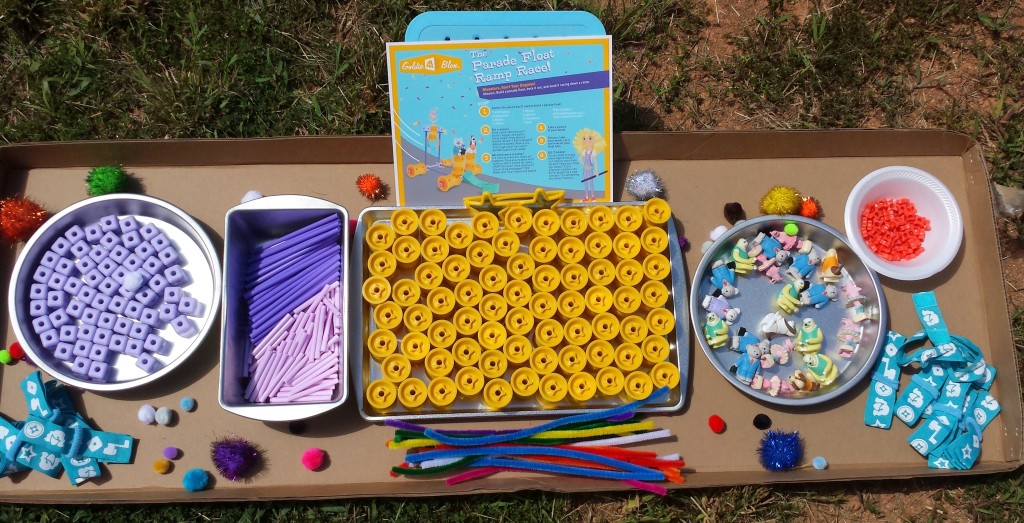 Each team had a turn in choosing which materials they wanted to build with. They were allowed the chance to view plans and blueprints for ideas.
Then they created their own plans.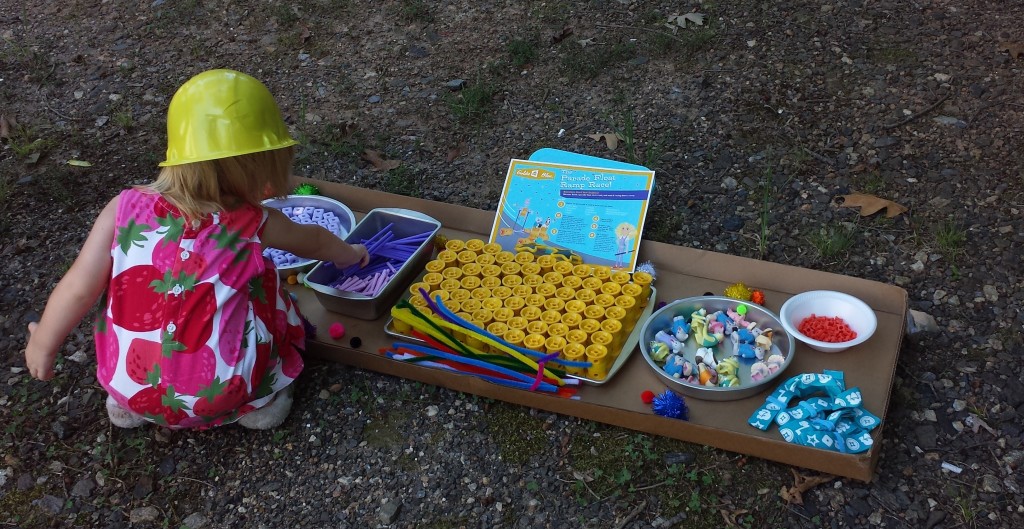 It was all about team work! They were encouraged to work together. I love involving team building activities when we have lots of kids over. Learning to work with others is a skill that everyone needs to possess.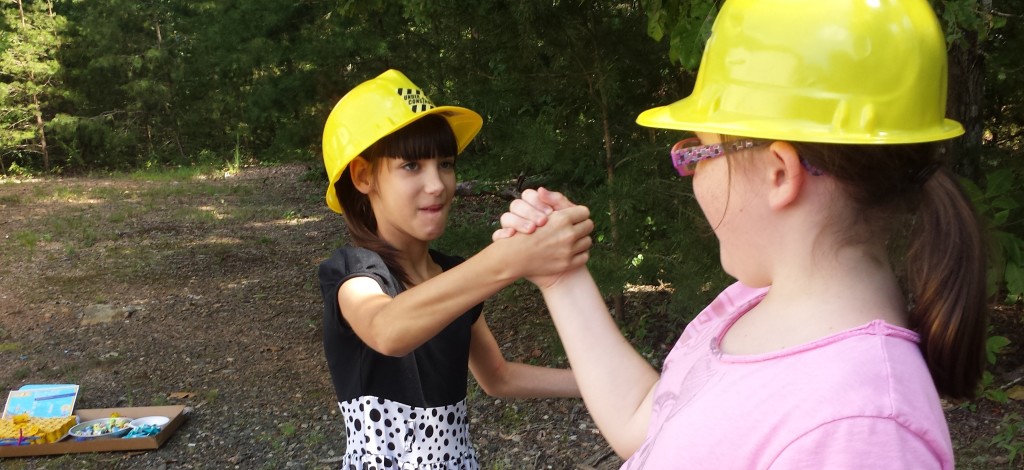 Team Pony was the team CB was on. She and her team mate (my niece) were determined to win.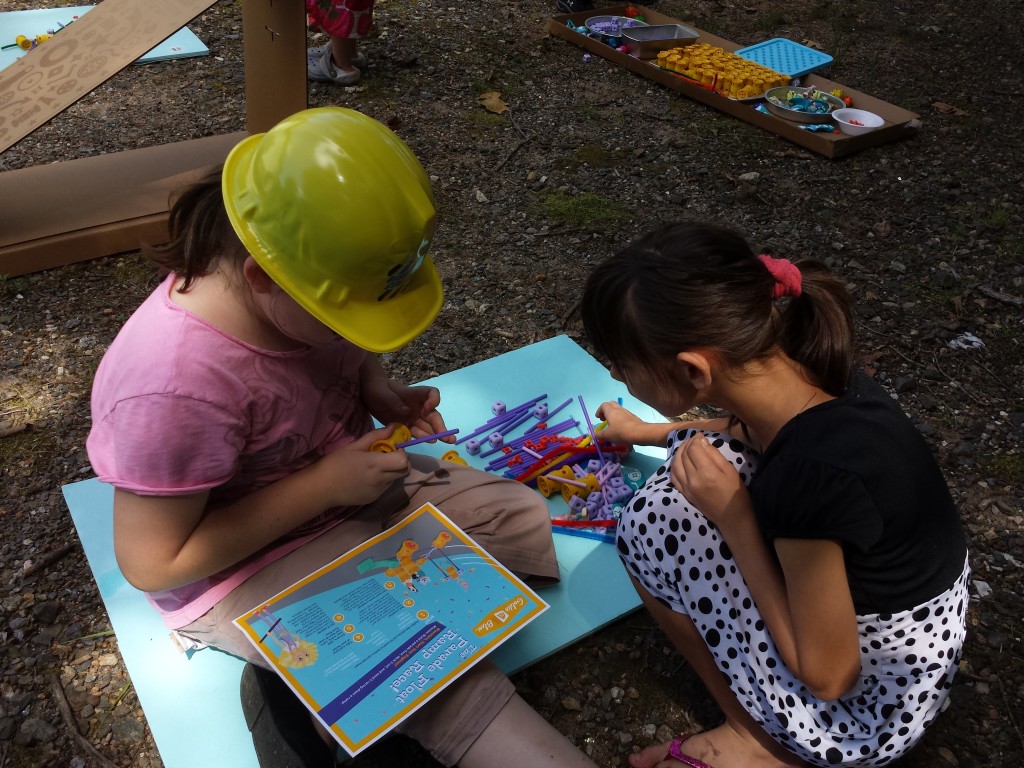 This was team Turtles's Car. They were so excited. All the kids loved to build with the Goldieblox.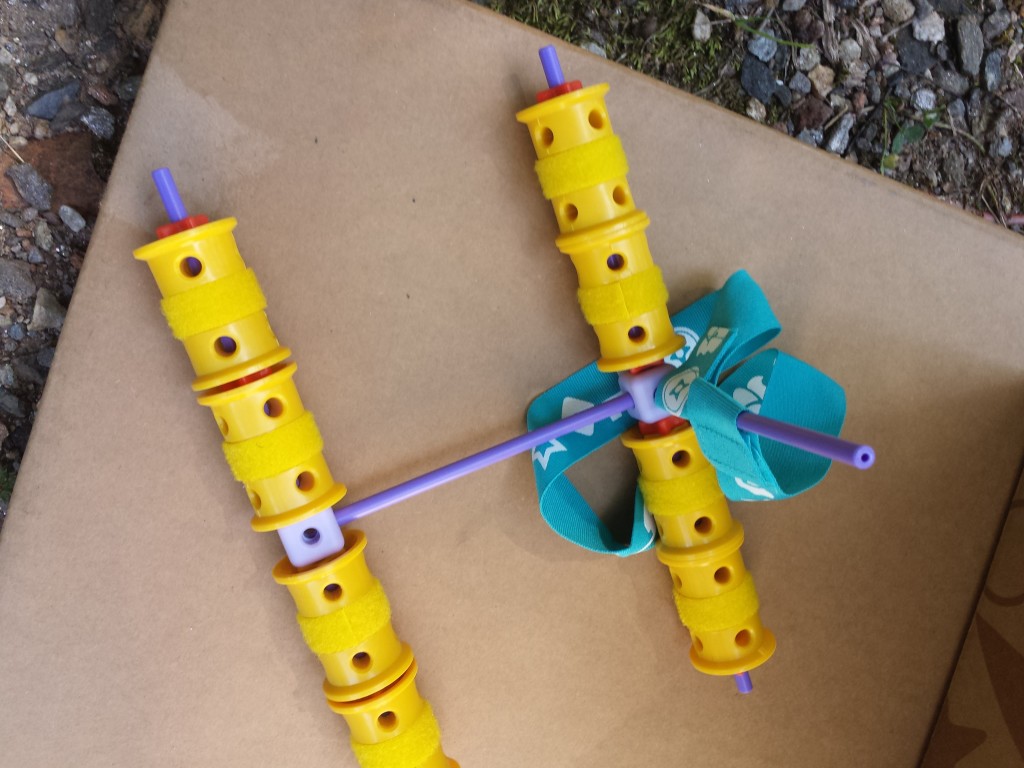 Many ideas were tested before the design started to take shape. Each team tested their designs several times before coming up with their finished car. Seemed the boys car needed LOTS of testing…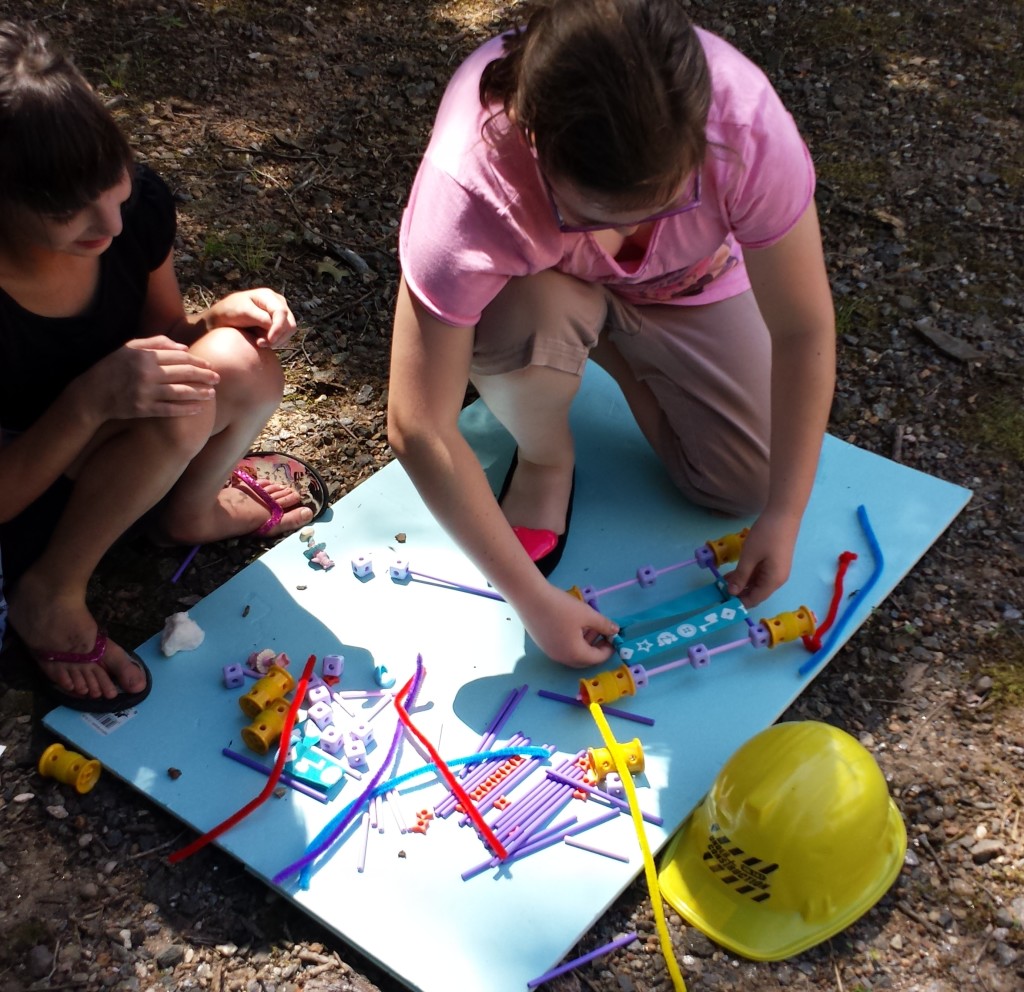 Someone apparently thought I was working recon for the other teams…. Her plans were not to be stolen.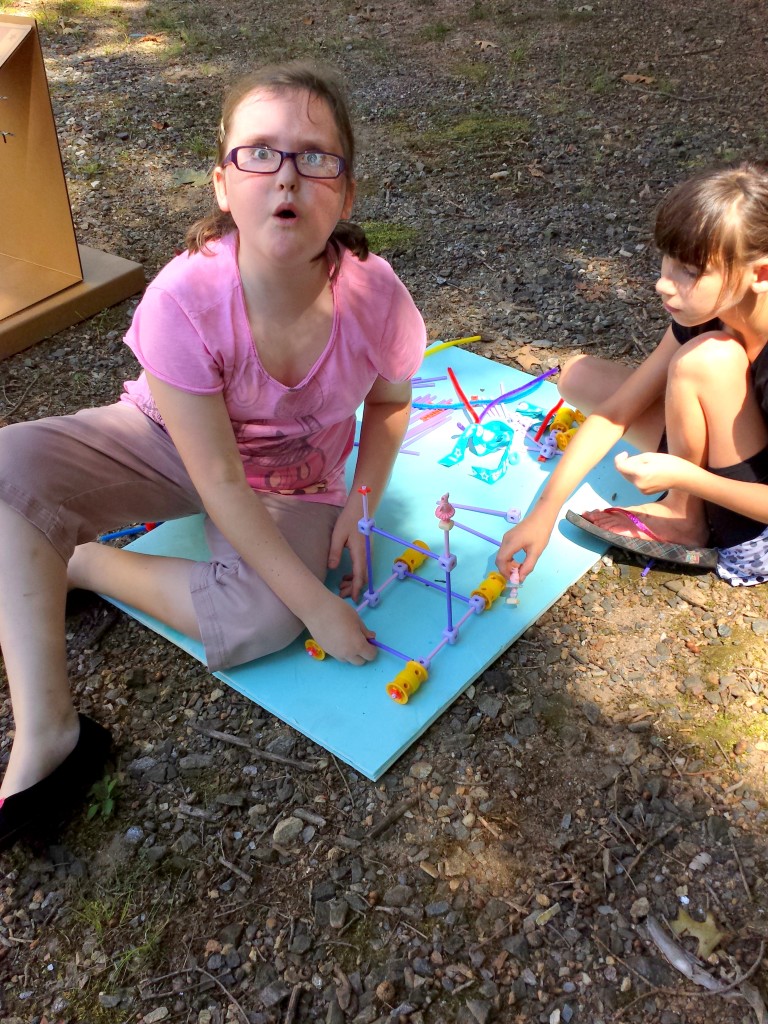 They were given the chance to test their cars for stability and adjust if needed. It was needed. No worries, no dolphins were harmed in their experimentation.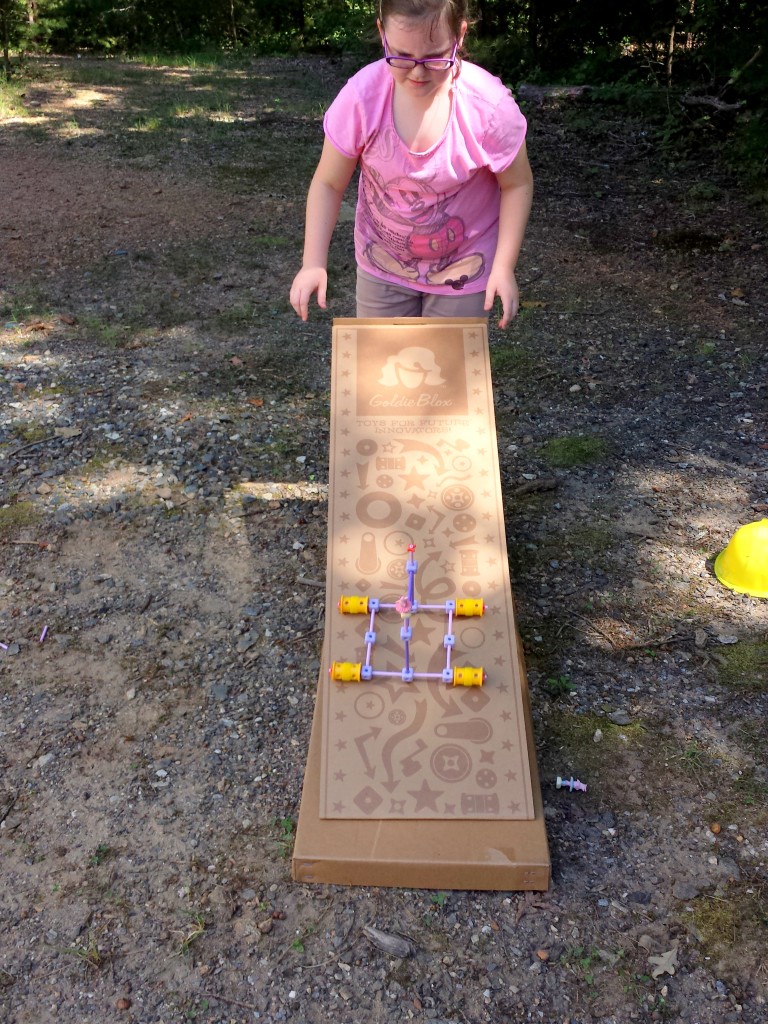 The Girls wanted to point out that they are just as capable as boys to create and we proved it.
With our experiment of girls against the boys it was pretty much a tie! All teams built wonderful cars that slid down the slide perfectly!
The boys were team Turtle and they did an excellent job building their car. It was creative how they tried to downsize the design to make it faster.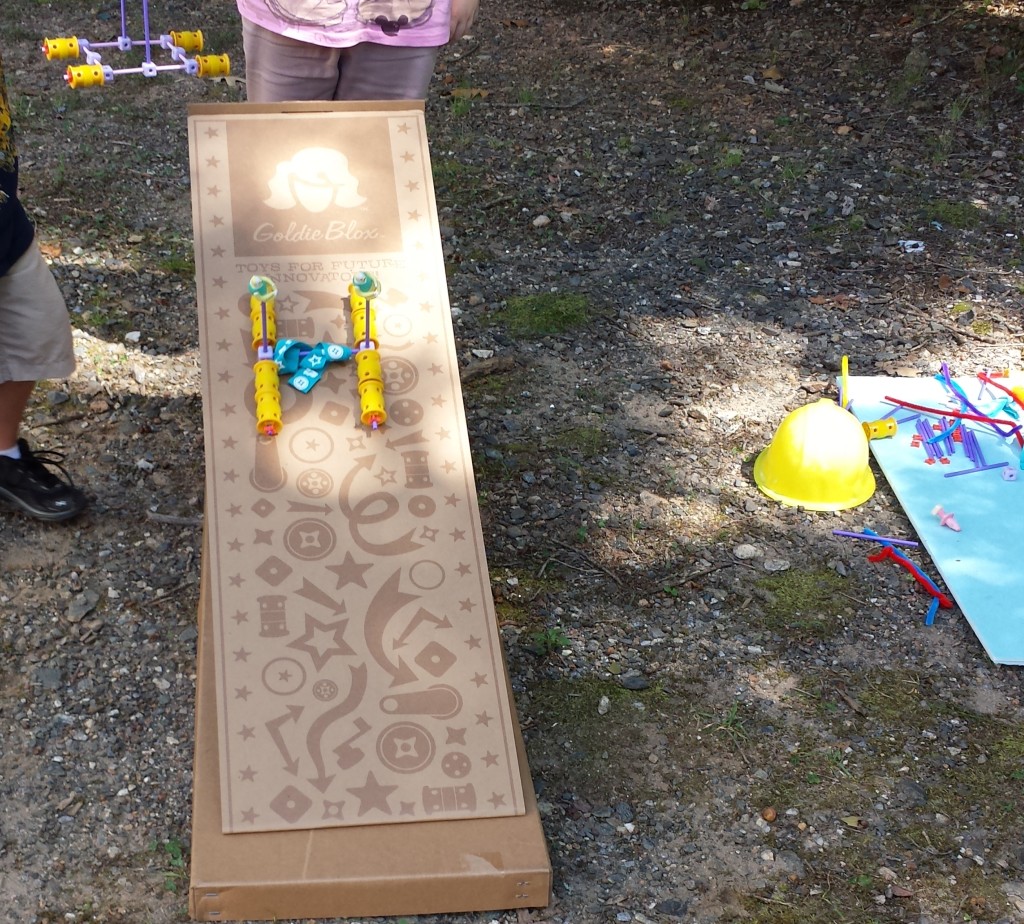 A few of our other party guest's parents really didn't want them on the blog. I live in a smaller area where  a lot of parents are still a little nervous about having their child's pictures on the internet so out of respect for that, I will show you Team Bear's and Team Kitty's cars. Team Bear made two because they thought each one was supposed to have one.
A few comments from the parents that attended:
"I have never seen anything like these. What a great idea!"
"What a fun toy."
"I like the blueprints. It's a good concept and it teaches them to be able to read blue prints."
"I would never have thought these would have been this much fun!"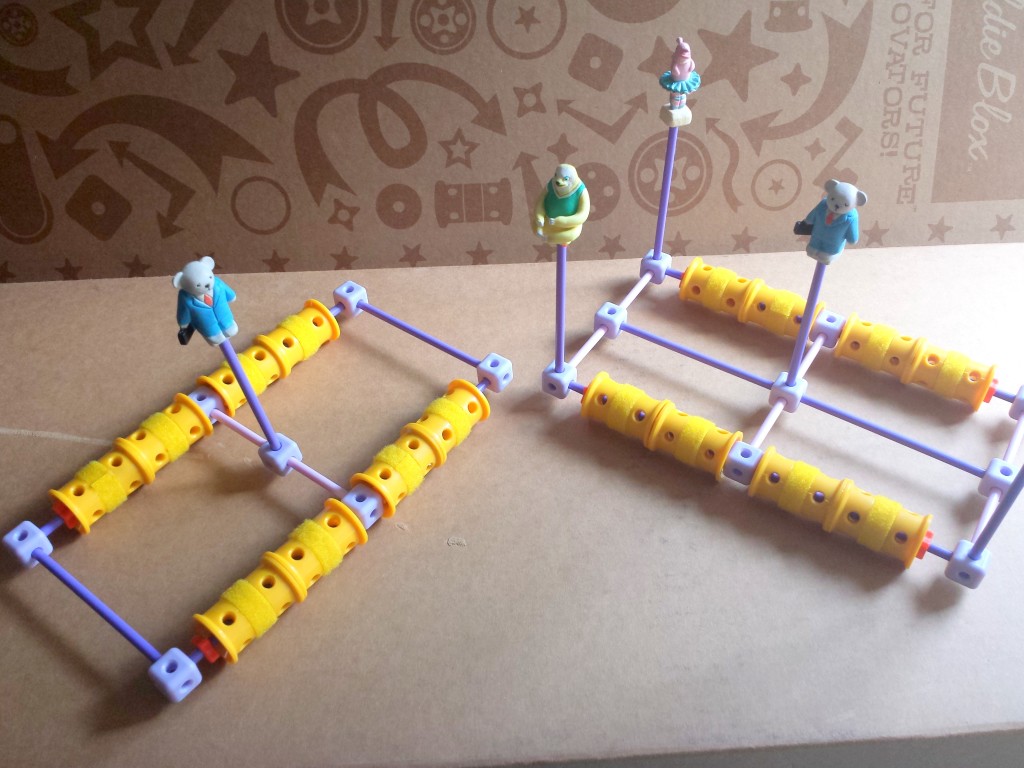 What did the kids say?
"Awesome!" – G
"I'm going to win! Boys are so going to win!" – J
"The animals are so cute! I like the dolphins." – P
There were lots more really good response to the product. One child did wonder why the parts only came in purple.
There was also a book that went along with the story but I couldn't get them all to settle down for the story. I left the book where they could access it and read it if they chose to.
Cb has decided this is her favorite toy now. She has always been into the design process of things and has always loved building.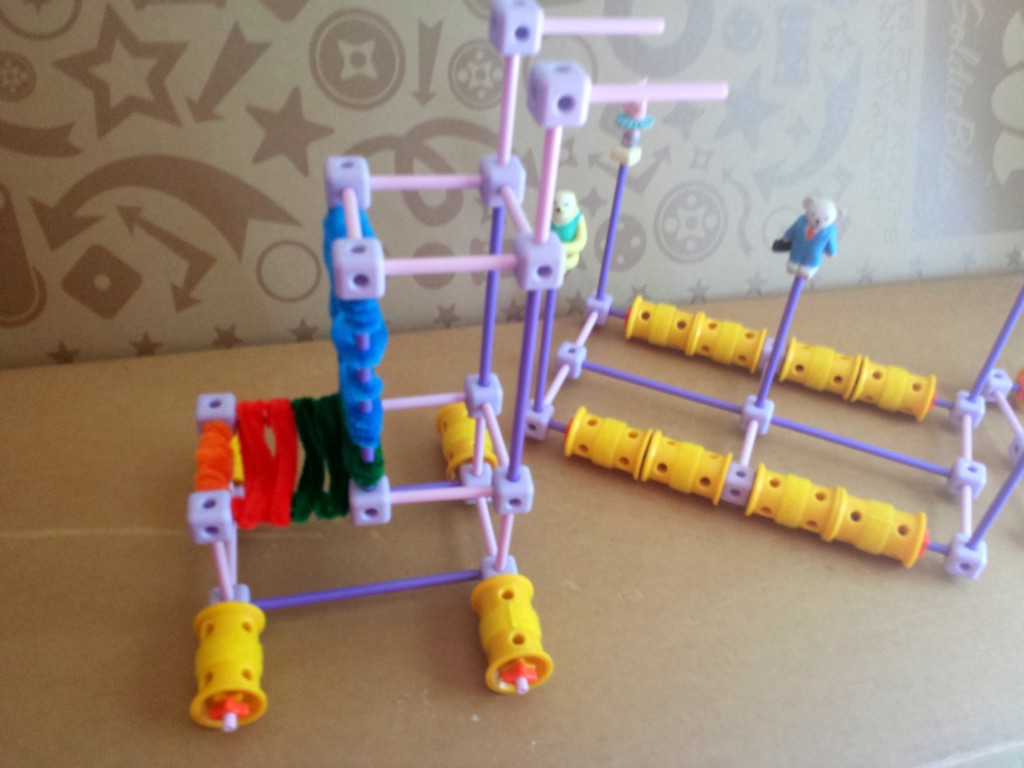 A close up of the animals because they really are just adorable! P was right about that.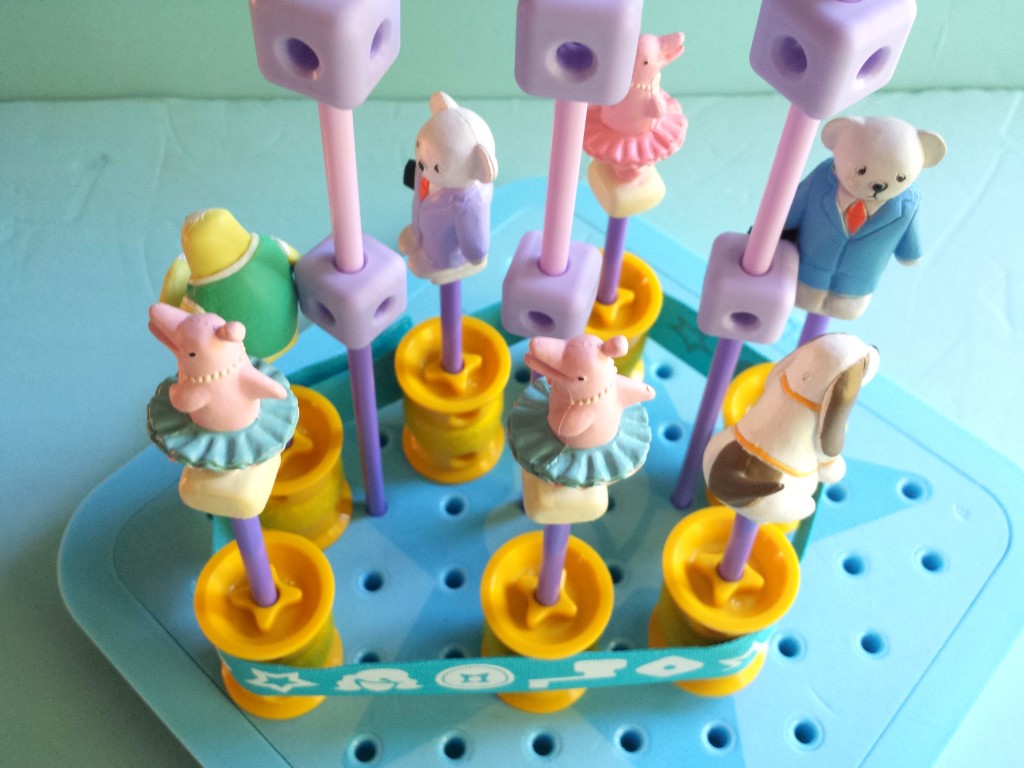 Everyone built their car and then joined us at the starting line for the race. It was exciting and no one knew what was going to happen. J was just wanting to get things over so he could go attack the brownie plate, which he did. Bub just knew the boys would win, but was in for a surprise. Some of the girls were fidgeting with the animals to make sure all was secure others were making their animals talk to each other. A few girls who had finished first had a cupcake in hand. It was so much fun!
Team Pony won the race in the end. They tested and retested, planned, worked hard, and in the end it all paid off!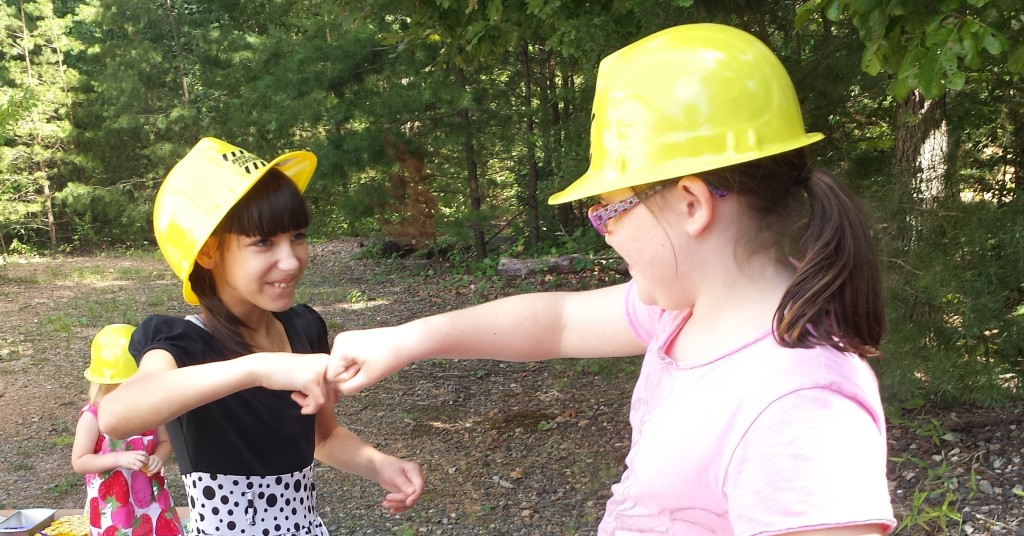 Since the party, CB has been building with Goldieblox way outside the box. She made a tower which she uses as a pretend microphone stand. She has made a doll bed for her sister's dolls. She even used some of the wheels to create a cute but heavy wreath to hang on her door.
And Now for a giveaway!
Enter for your chance to win 2 GoldieBlox Sets and start your daughters building!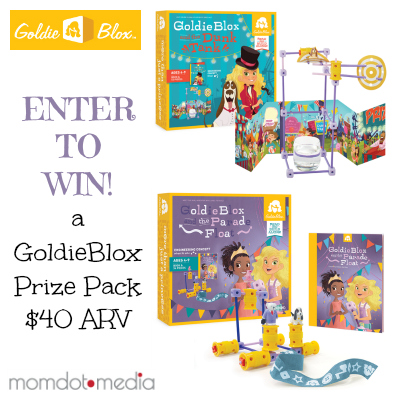 Disclosure. We were given GoldieBox products to facilitate this party but all opinions and views belong to those who expressed them and are honest and forthright.